MISOGYNISTIC CONTENT IN VALLEY SPRINGS CHURCH'S INSTAGRAM POST
A misogynistic message on Valley Spring Church's Instagram page was removed on April 20, 2022
MISOGYNISTIC CONTENT
A Valley Springs Church Instagram post from March 31, 2022 revealed misogynistic sermon notes. The post was deleted on April 20, 2022, forty minutes after the problematic content was exposed on Reddit.
Before it was deleted the post had 18 likes. The Valley Springs Church Instagram account had 394 followers on the day the post was deleted. This image in the post was of a laptop computer, an ESV Bible open to Matthew 16, a bowl of cereal or granola, an Oregon State University water bottle, and a page of handwritten notes. At the time of the post Mike Luczkiw was the lead pastor of Valley Springs Church (Corvallis, Oregon).
The instagram comment/caption from Valley Spring Church stated:
@oregonstate students Week 1 is almost done and Friday is almost here!!! Best way to start off any morning… God's presence, coffee and yummy breakfast!
Zooming in to the notes revealed the following handwritten text:
Consequences of Sin

Singleness for women

Men are supposed to lead and not succumb to their wives' momentary emotion.

no pay that justifies the work

Men have to lead, and sometimes that means breaking things down to lead and rebuild.

This can cause more emotions for those they are leading.

Wives have to hear their husbands and allow for growth and leadership

Emotion aside

Business v. Personal

Cannot halt direction for momentary emotion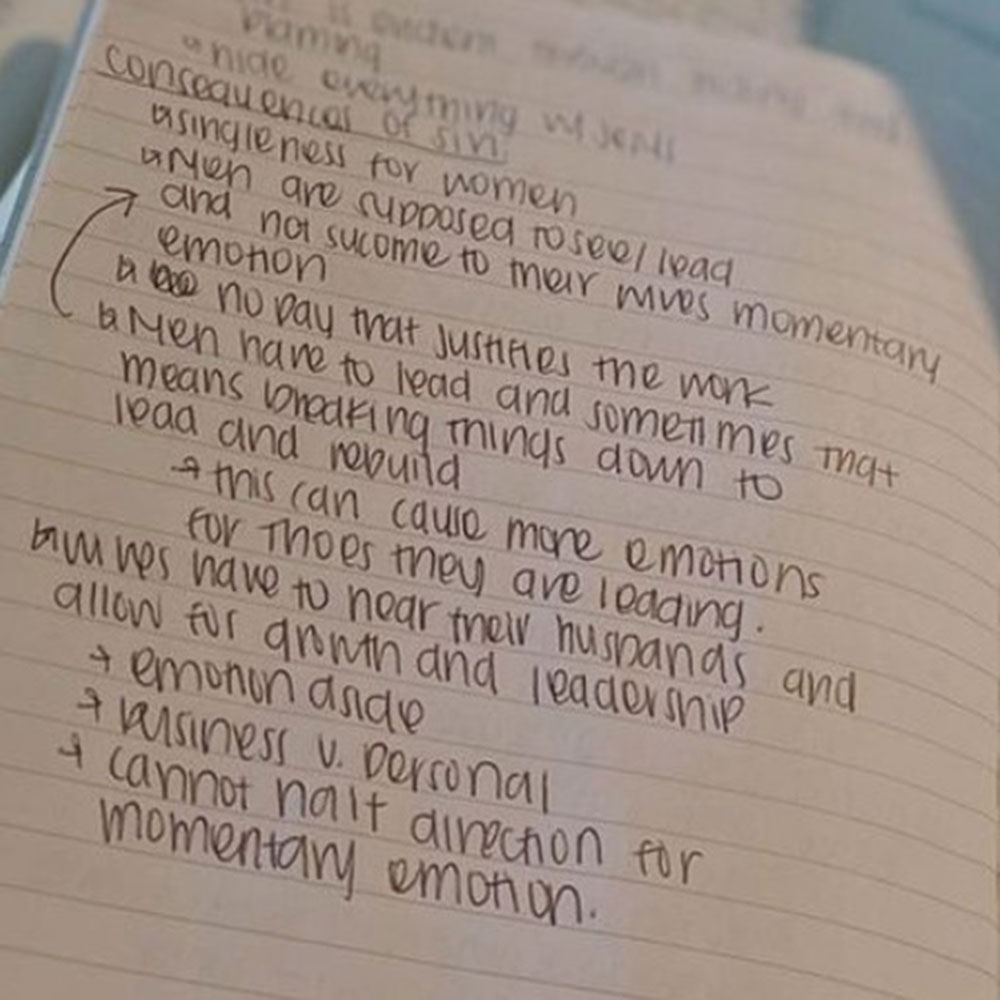 WHY DOES THIS MATTER?
This matters because an overwhelming number of women leaving The Network claim to have experienced a pattern of misogyny and authoritarian behavior from male leaders during their time in Network churches. Though we do not have the sermon or training from which these notes were derived, it is clear that the notes are communicating that men are to dismiss or dominate women, that women's emotions are dangerous and ruin the plans of men, and that emotions are an unimportant byproduct of men "breaking things down" in order to "lead and rebuild."
This Instagram post is important because it is in the same spirit of control and misogyny many women claim to have experienced within The Network, and which Network leaders deny. Because pastors within The Network do not make their teachings available for public scrutiny, this post represents a rare instance of evidence for domineering Network teachings.
The following stories include abusive male dominance as an element of the victim's spiritual abuse:
IS THIS BEHAVIOR SUPPORTED BY "COMPLEMENTARIAN" THEOLOGY?
Complementarianism is a theological view which holds that men and women have different but complementary roles and responsibilities in marriage, family life, and religious leadership. Network leaders claim they hold "complementarian" views.
Misogyny is hatred of, contempt for, or prejudice against women. It is a form of sexism that keeps women at a lower social status than men, thus maintaining the societal roles of patriarchy.
Just like our readership, the contributors of LeavingtheNetwork.org have differing opinions and experiences with complementarianism. While we do not express rejection or acceptance of complementarianism on the site, we categorically denounce misogyny. The ideas expressed in the notes posted from Valley Springs Church's Instagram account and the experiences related by the women who have left The Network strongly suggest that the culture of The Network is one of discriminatory misogyny, not complementary equality.
SEE ALSO:
BACK TO SOURCE DOCUMENTS:
PRIMARY SOURCES: Various documents used as primary sources for the information presented on this site