VINE CHURCH ONLINE REVIEWS
A collection of online reviews gathered from Google, Yelp, and other social media sites
ONLINE REVIEWS FOR VINE CHURCH IN CARBONDALE, ILLINOIS
BACKGROUND
Network churches heavily control their public image, going to great lengths to control information about their methods and practices. Leaders encourage church members to flood sites like Google Reviews with positive reviews for Network Churches (and, in some cases, for churches other than the one the reviewer attends). This practice of having members leave positive reviews on social media has had the effect of burying legitimate public criticism.
For an in-depth analysis and specific examples of how Network churches encourage leaders and members to flood review sites with positive reviews, read this article on NotOvercome.org.
WHY DO THESE REVIEWS MATTER?
These reviews matter because they corroborate the manipulative, abusive, and harmful practices which are documented throughout this site. We have chosen to surface these reviews because they give further voice to victims and provide additional reassurance to anyone who has experienced abuse within these high control groups that they are not alone.
NOTE: We are not surfacing all negative reviews which have been posted to crowdsourced review sites. Rather, we have selected entries which bear witness to a pattern of the behaviors outlined in our article "8 Signs of a Dysfunctional Church".
WHO WAS THE LEAD PASTOR OF VINE CHURCH WHEN THESE REVIEWS WERE WRITTEN?
Steve Morgan: 1995 - 2004
Sándor Paull: 2004 - 2017
Casey Raymer: 2017 - present
---
REFUSED TO TELL ME THEIR BASIC BELIEFS
Source: Vine Church Google Review, 2015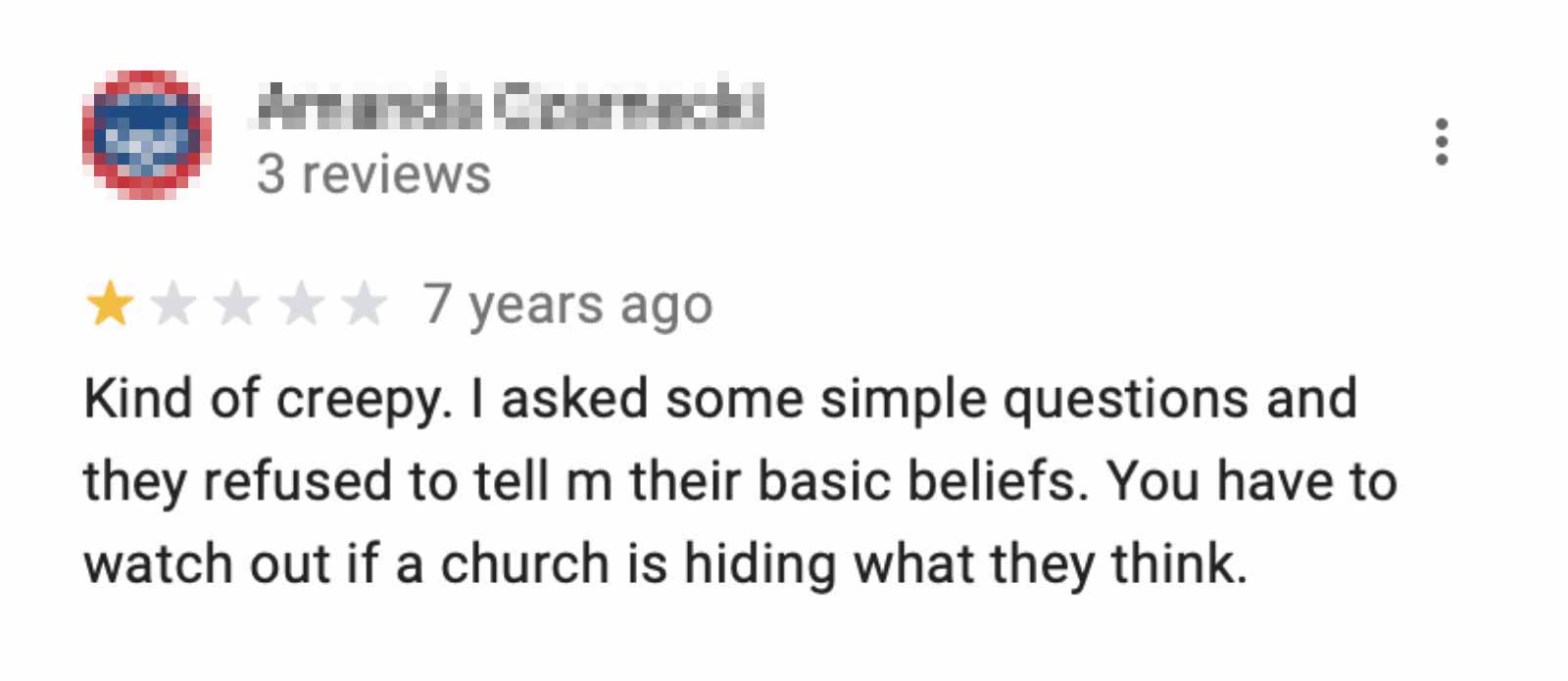 Kind of creepy. I asked some simple questions and they refused to tell m their basic beliefs. You have to watch out if a church is hiding what they think.
---
CLIQUE-ISH AND CULT-LIKE
Source: Vine Church Google Review, 2015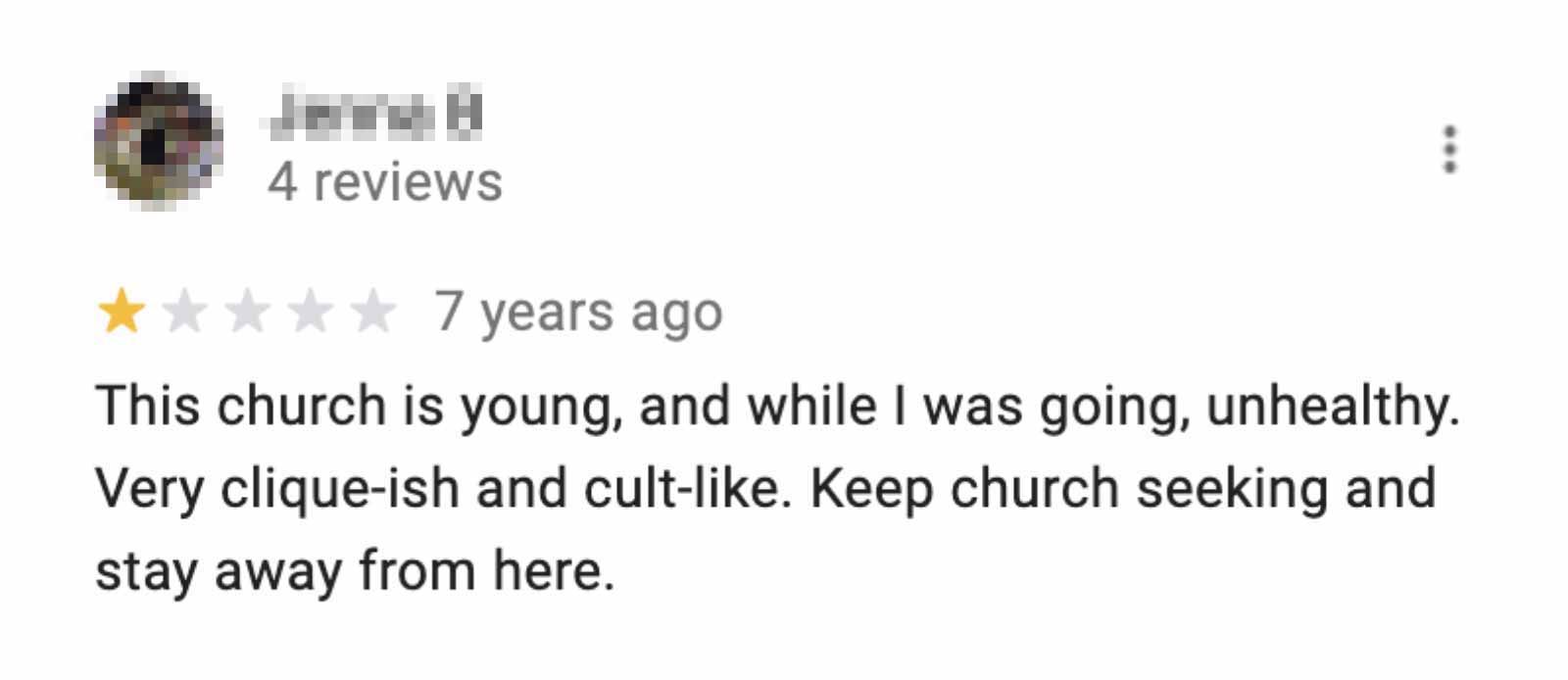 This church is young, and while I was going, unhealthy. Very clique-ish and cult-like. Keep church seeking and stay away from here.
---
KICKED OUT BY THE STAFF BECAUSE EX-GIRLFRIEND ATTENDS THE SAME CHURCH
Source: Vine Church Google Review, 2016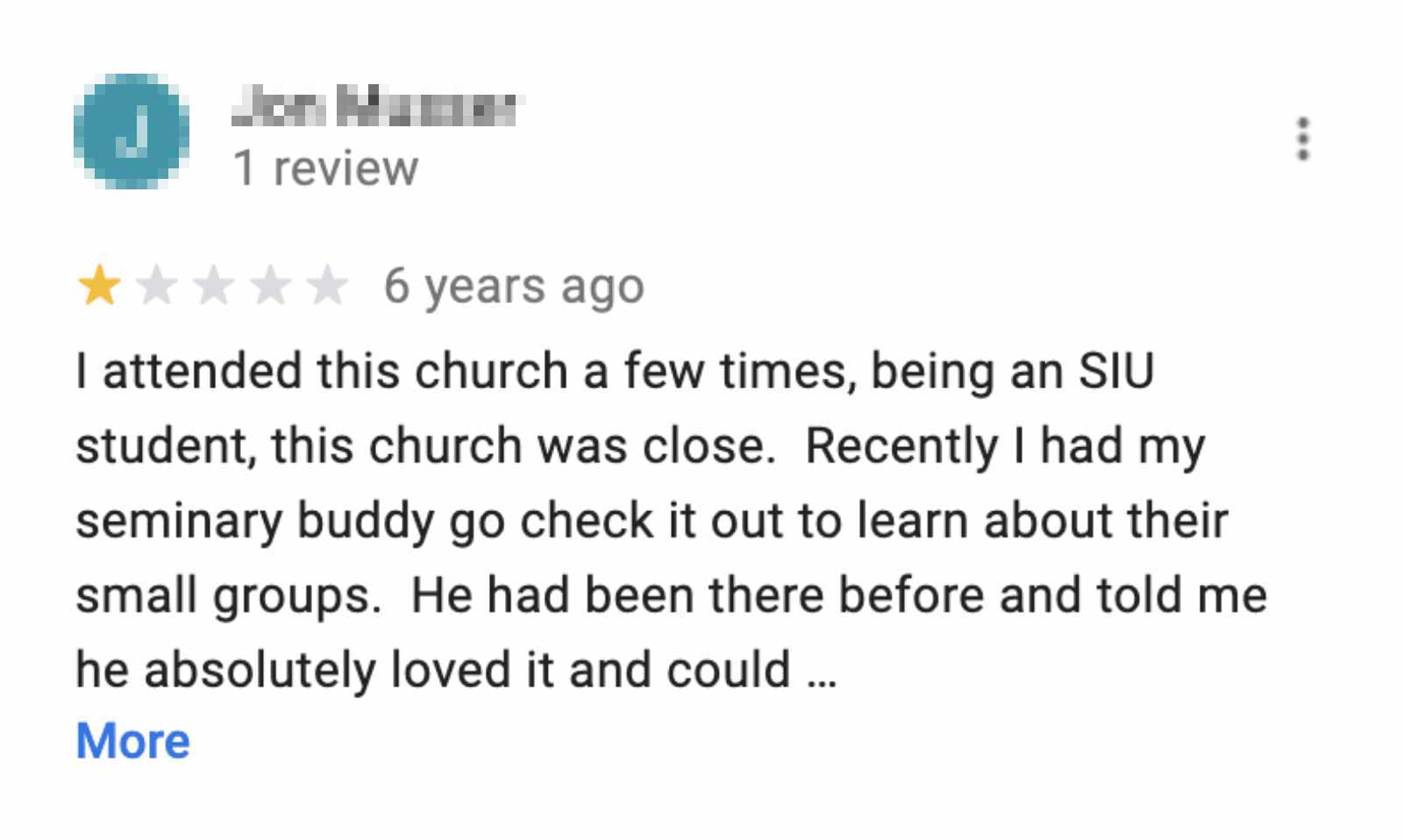 Full text of review (view screenshot of full review):
I attended this church a few times, being an SIU student, this church was close. Recently I had my seminary buddy go check it out to learn about their small groups. He had been there before and told me he absolutely loved it and could sense the Lord calling him there to gain knowledge on small groups to bring that to the Chicago area.
Unfortunately he had a rather bad experience. He was kicked out by the staff there only because his ex attends the same church. He didnt cause a scene or anything, he was told to leave because the girl did not like seeing him. I feel as a church this was handled very badly. Fortunately this guy has such a heart for God, he took it as best he could.
I can't believe the same church I would go to would do this to someone. By God's grace, they should have done something differently, after all we are all God's children and churches especially should be able to handle this in a loving way. Just wanted to put this up because I am still in shock that this happened to him, especially from a church!
---
IF YOU DON'T FIT IN THEY HAVE NO TOLERANCE FOR YOU
Source: Vine Church Google Review, 2017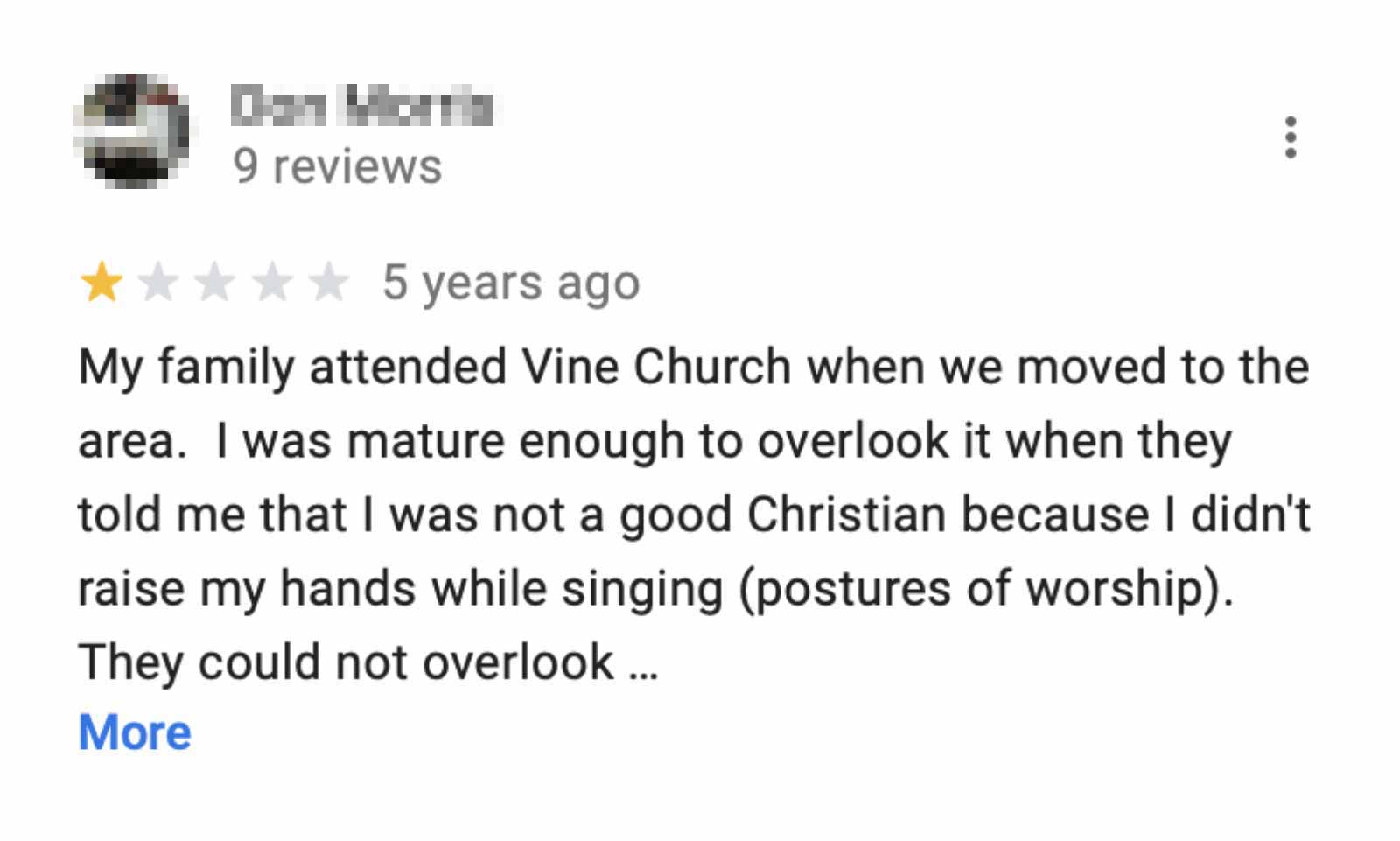 Full text of review (view screenshot of full review):
My family attended Vine Church when we moved to the area. I was mature enough to overlook it when they told me that I was not a good Christian because I didn't raise my hands while singing (postures of worship). They could not overlook the fact that I express myself in worship by quietly harmonizing. They sent an elder to listen to me, and after sitting by my family for 2 weeks (he had to sit close to hear me) he proclaimed that my singing was "disturbing others." He gave me two choices - take singing lessons he offered (no joke) or leave. I chose to leave.
God looks at a person's heart. Vine Church is enamored by a person's outside appearance. Please be very cautious about this church. If you fit their Jock/Cheerleader mold, you will fit right in. If you don't fit right in, they will have no tolerance for you - and this is even if you agree with their doctrinal teachings on the Bible. Is this really what you think Christianity is about? If so, you'll love it there!
If you are from the Vine and feel this review is unfair, feel free to contact me.
---
NOT INTERESTED IN HELPING MARGINALIZED COMMUNITIES
Source: Vine Church Google Review, 2019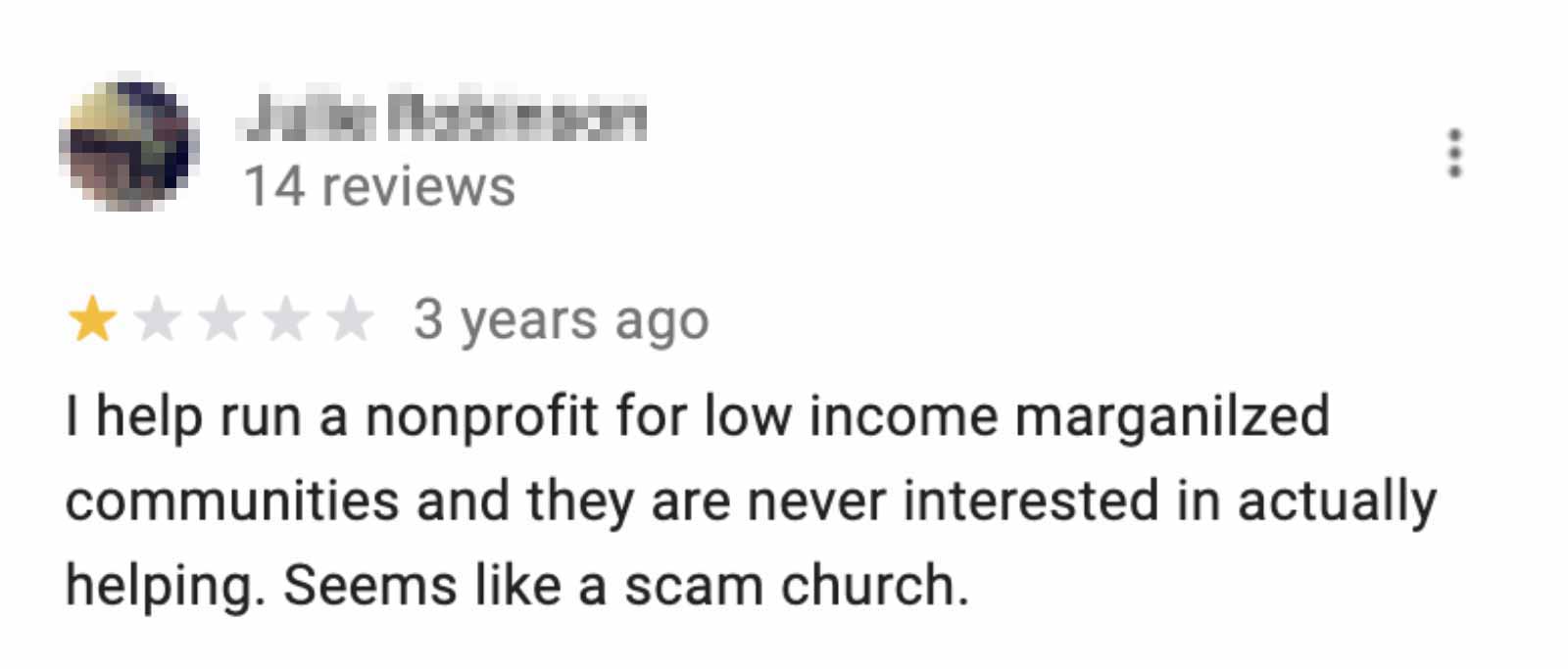 I help run a nonprofit for low income marganilzed communities and they are never interested in actually helping. Seems like a scam church.
---
WE ENTERED A 'CHURCH' ONLY TO LEAVE A CULT
Source: Vine Church Google Review, January 2022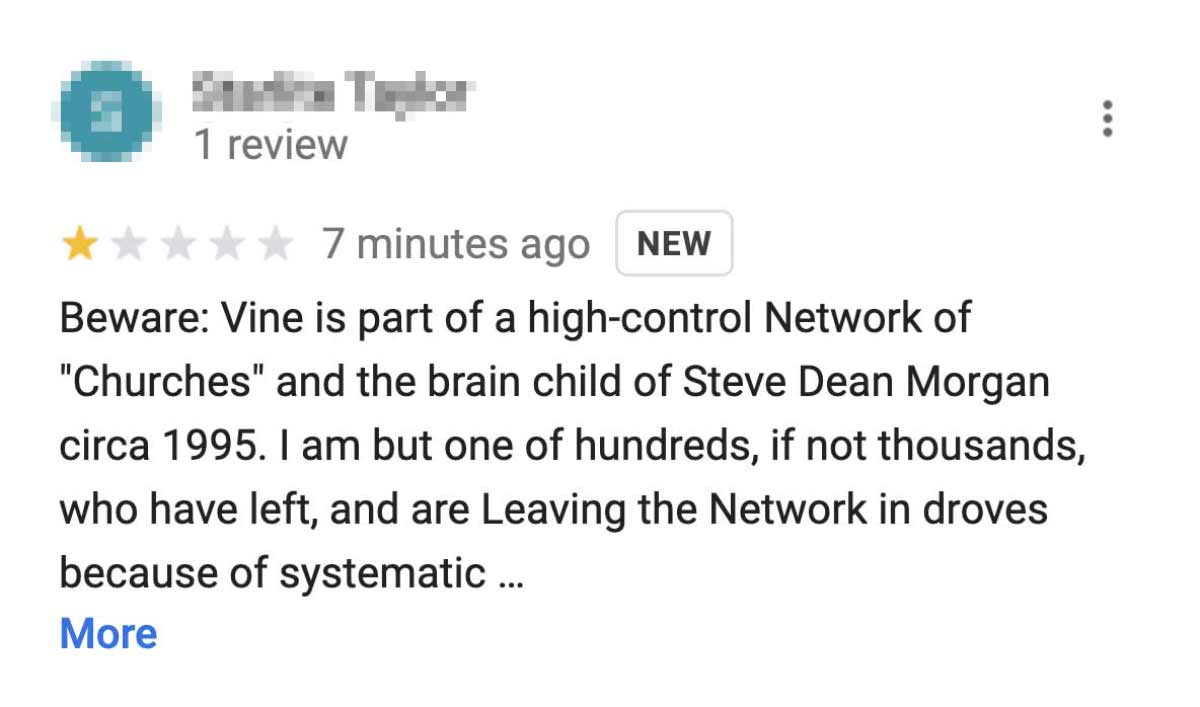 Full text of review (view screenshot of full review):
Beware: Vine is part of a high-control Network of "Churches" and the brain child of Steve Dean Morgan circa 1995. I am but one of hundreds, if not thousands, who have left, and are Leaving the Network in droves because of systematic depredation veiled as righteousness.
Vine church and its Network leaders teach spiritually abusive values of misogyny, heteronomy, human idolatry, and the shunning of accountability. they disguise it as "complementarianism", "unity", "loyalty" and "authentic relationship".
Those of us who have come to our senses are having to put our lives back together after decades of mind control and spiritual abuse. our stories are public. search -Leaving the Network- online.
Steve Morgan has been able to distort theology, eschatology and the hermeneutics of Christianity by "flying under the radar" when he evaded biblical accountability after leaving the Association of Vineyard Churches in 2008.
And it's not that they haven't been confronted about these abuses, but their obedience and loyalty is to Steve Morgan, not to its congregants. It is then that you slowly realize they were great leeches and poor leaders.
They highly orchestrate the Sunday experience and their events to get you to keep coming in order to gain your trust, and then you find yourself making excuses for their perpetual red flags.
The reason they want college students is because they know they are a easy target to entice and manipulate. The reason they want local business people is because they are a steady source of money who also have 401ks to tap into. If you've always felt passed over in this love bombing, it's because they have, intentionally. They are only interested in those who they deem "winsome" or "the cream of the crop" which is the opposite of who Jesus made himself available to. They deem you must "give-over everything" and they aren't kidding; they want to be masters over mind, body and souls. Jesus is simply their ploy.
We entered a 'church', only to leave a cult.
---
I'VE SEEN THE TOXICITY FROM ALL ANGLES
Source: Vine Church Google Review, February 2022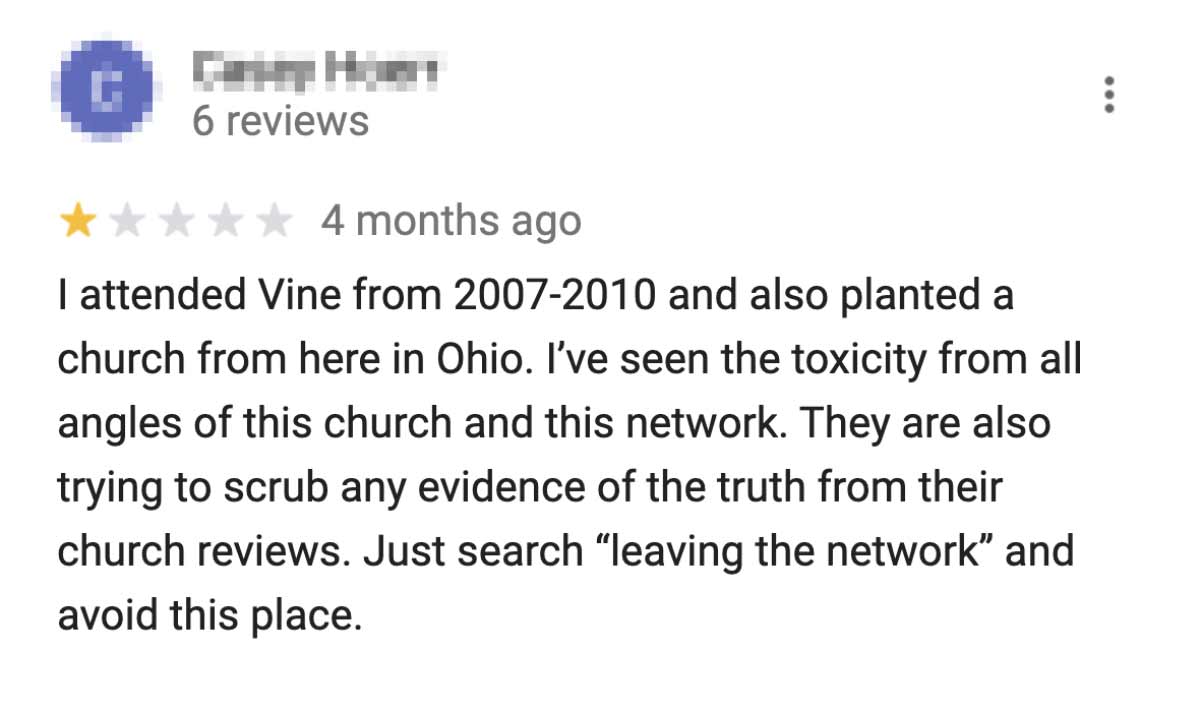 I attended Vine from 2007-2010 and also planted a church from here in Ohio. I've seen the toxicity from all angles of this church and this network. They are also trying to scrub any evidence of the truth from their church reviews. Just search "leaving the network" and avoid this place.
---
THIS IS A HIGH-CONTROL ORGANIZATION WHICH WILL TAKE AS MUCH TIME, MONEY, AND RESOURCES AS PEOPLE WILL GIVE TO IT
Source: Vine Church Google Review, March 2022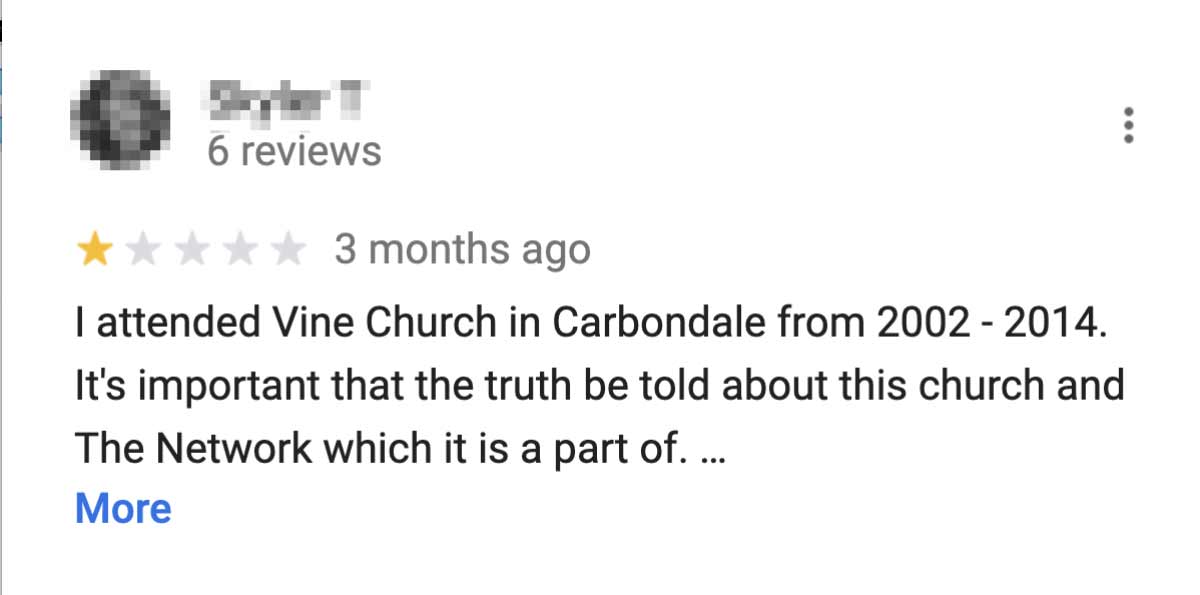 Full text of review (view screenshot of full review):
I attended Vine Church in Carbondale from 2002 - 2014. It's important that the truth be told about this church and The Network which it is a part of.
This is a high-control organization which will take as much time, money, and resources as people will give to it. This church, and the others in The Network, exist for one purpose: to replicate themselves exactly in as many towns as possible. They will seek to transform people into a clone of whichever leader they are assigned there, and if they speak up or put their foot down they will be asked to leave. I witnessed this process at work to the detriment of hundreds of people.
Being at a Network Church turned me into a monster, the kind of person who viewed everything outside this Network as hostile and clueless - even other Christians. People were used as commodities for free labor, to grow and multiply small groups, and to send out church plants. I realized with disgust what I was becoming, what this system was making me into... what we were forming others into.
The pain and the trauma that is being expressed elsewhere online (search for "Leaving The Network" or "not overcome") make plain that what we built is not something to be proud of.
If anyone reading this has yet to hear an apology from someone at Vine: I'm sorry. You should not have been treated this way.
As a former participant in this system who wholeheartedly exchanged actual living and breathing people for so many of my leaders' manipulative "prophecies", let me just say...
...run.
Do your homework. Read about other churches. Understand what you are getting into before you join.
Being involved at Vine and The Network will always be a part of my past, but I'm thankful it's not part of my present.
---
THE PAIN THAT VINE CAUSED TO MY FAMILY BECAME NEARLY INCALCULABLE
Source: Vine Church Google Review, May 2022

Full text of review (view screenshot of full review):
My wife and I attended Vine for roughly 7-8 years. During that duration we were uniquely a part of some specialized small groups lead by what I would call a "nonVine" pastor. The years spent in those groups were life altering for us in terms of what we witnessed God do. They were awesome! However, my 2 star review truly reflects my time at Vine after these particular groups and it's pastor we're "dissolved"/subsequently let go. At which point, the amount of pain that was caused to my family became nearly incalculable…
As a disclaimer, it's terribly unfair to give such broad sweeping reviews in the form of a 5 star system to a place with so many people, experiences, and complexities. Some pastors/leaders made efforts to mend the terror caused by poor leadership/accountability. Others, certainly compounded the issue, even claiming certain clear abuses were sanctioned according to what "Jesus said" to them. This idea of Jesus allowing us to be spiritually assaulted by others in the church created a mass of confusion. Assurance issues, terrible fears, doubts, and ultimately suicidal thoughts followed and subsisted for roughly 2 years as we tried to submit to these terribly false allegations against us and against Jesus.
The wake of pain, of which I am being thoroughly vague on in this review, has had a two fold effect. First, it caused me to desperately search the scripture day and night for those 2 years. I had to see many counselors, some as far as St. Louis just to get a handle on reality. Those dark days made a fairly good theologian out of me. In fact, I have been able to graduate with a BA in theology from one of my hero's (John Pipers) college, as well as I completed a masters in Biblical counseling. Really my love for theology and God came out of a very awful situation.
When lies abound, good truth is the only remedy. Im grateful to have survived this entire ordeal at vine. Secondarily, the negative effects of the abuse I suffered, are as stated above, incalculable…at least to me. Anger towards the church is something that seizes my heart nearly every Sunday morning because of what happened at vine. Religious superiority permeates my thinking on a vast array of practical topics. Things like small groups, hands on prayer, discernment, worship etc… See, Vine was pretty good at a lot of things, which can be dicey when you begin to think you're the best. Arrogance's abounded in the practical/extra biblical realm. Other residual byproducts are things like memory loss, focus issues, social anxiety, terrible fear of rejection and sadly faintheartedness. I started on anti-depressants during this 2 year terror at vine and nightly suffered awful dreams of blasphemy, rage, and revenge. The wrongs done went deep. I knew even with that being true, I was totally culpable for my response. One thing is clear though, I did not cause this trauma to myself. It had a real source, a HUMAN agency which should have bore the culpability's as well.
I will say Sandor, the lead pastor at the time, did make efforts in ways to help me during those years. Admitting the fault of particular leaders for them, and praying regularly for me. However, the leaders were never called to any sort of account and eventually my family had to leave. I've heard a lot of rumors about Vine being a cult, things about the leader of the network owning a 2 million dollar ranch etc… There are a lot of honest people who left these church's in this network with a similar story as mine. It's sad. I don't know what to call it all. In fact I'm not really even interested in giving it (this networks propensity to hurt it's devoted members) a label. It's wrong. It's unbiblical. It's unloving. But I loved the people too much to claim it's a cult…May Jesus help the men and women of this network.
---
IT PAINS ME TO SAY THAT THIS CHURCH IS NOT A SAFE PLACE
Source: Vine Church Google Review, May 2022

Full text of review (view screenshot of full review):
I attended Vine Church for two years and was part of a church plant team when Vine Church sent Bluesky Church. I spent 17 years involved with a church in the Network of churches of which Vine is a part.
Please google "Leaving the Network '' to read background information about Vine Church and its associated network. Read the personal stories from Vine Church and from people all over network churches including my personal story (Andrew L). It pains me to say that this church is not a safe place. Because of the negative experiences of so many, questions about a lack of accountability, and the continued refusal of church leaders to take appropriate actions, 19 former pastors, staff members, and overseers including myself signed a Call to Action recommending an independent investigation. Over 540 people signed an associated petition. Please pay particular attention to a letter from an esteemed seminary professor. In summary, this professor said the following regarding Vine Church and its Network: 1. Perpetrating se***l abuse disqualifies one from ministry. 2. There are great concerns about lack of transparency/honesty regarding the Network Leader's criminal background. 3. There appears to be serious issues with Network leadership structures. 4. A lack of response to the Call to Action from Network Leaders speaks volumes. 5. The Call to Action by former leaders and staff is wise and biblical. 6. There are significant allegations of spiritual abuse in The Network. 7. The Network's response to the allegations is very disturbing as it postures themselves as the victims of "persecution." 8. This situation has all the hallmarks of abuse cover up, lack of honesty, and blame shifting. 9. Abuse survivors should do all they can to articulate their concerns to the church leadership. 10. As far as the Network Leader, he should take a leave of absence while the church allows a thorough, independent investigation.
Please read all related documents and carefully consider information before joining this church.
I'd happily change this review if/when the leaders repent of their sins, seek reconciliation with the hundreds of victims they have harmed, and walk the humble path of gospel transformation.
---
STAY AS FAR AWAY FROM THIS CHURCH AS POSSIBLE!
Source: Vine Church Google Review, May 2023

Full text of review (view screenshot of full review):
Stay as far away from this church as possible! This church may look nice and have so many amenities but, when you become part of the church and attend the small groups, you start to see the facade of the members and the smoke & mirrors of the atmosphere of the church. 💯👍🏽 It's called a 'church' but, when you attend, it's more like a cliquish cult-like setting!
Again, Stay Away! 🙅🏾‍♀️🚫🛑
BACK TO STORIES:
STORIES: Read the stories of those who have left and who have consented to share their experiences from their time in Steve Morgan's Network of Churches