VIDA SPRINGS CHURCH ONLINE REVIEWS
A collection of online reviews gathered from Google, Yelp, and other social media sites
ONLINE REVIEWS FOR VIDA SPRINGS CHURCH IN GAINESVILLE, FLORIDA
BACKGROUND
Network churches heavily control their public image, going to great lengths to control information about their methods and practices. Leaders encourage church members to flood sites like Google Reviews with positive reviews for Network Churches (and, in some cases, for churches other than the one the reviewer attends). This practice of having members leave positive reviews on social media has had the effect of burying legitimate public criticism.
For an in-depth analysis and specific examples of how Network churches encourage leaders and members to flood review sites with positive reviews, read this article on NotOvercome.org.
WHY DO THESE REVIEWS MATTER?
These reviews matter because they corroborate the manipulative, abusive, and harmful practices which are documented throughout this site. We have chosen to surface these reviews because they give further voice to victims and provide additional reassurance to anyone who has experienced abuse within these high control groups that they are not alone.
NOTE: We are not surfacing all negative reviews which have been posted to crowdsourced review sites. Rather, we have selected entries which bear witness to a pattern of the behaviors outlined in our article "8 Signs of a Dysfunctional Church".
WHO WAS THE LEAD PASTOR OF VIDA SPRINGS WHEN THESE REVIEWS WERE WRITTEN?
Tony Ranvestel: lead pastor from 2016 - present
---
EXPECTATION OF UNIFORMITY RATHER THAN TRUE UNITY WITH AN EMPHASIS ON EMPIRE BUILDING FOR THE CHURCH NETWORK AND ITS SPECIFIC IDEOLOGY
Source: Vida Springs Church Yelp Review, January 2022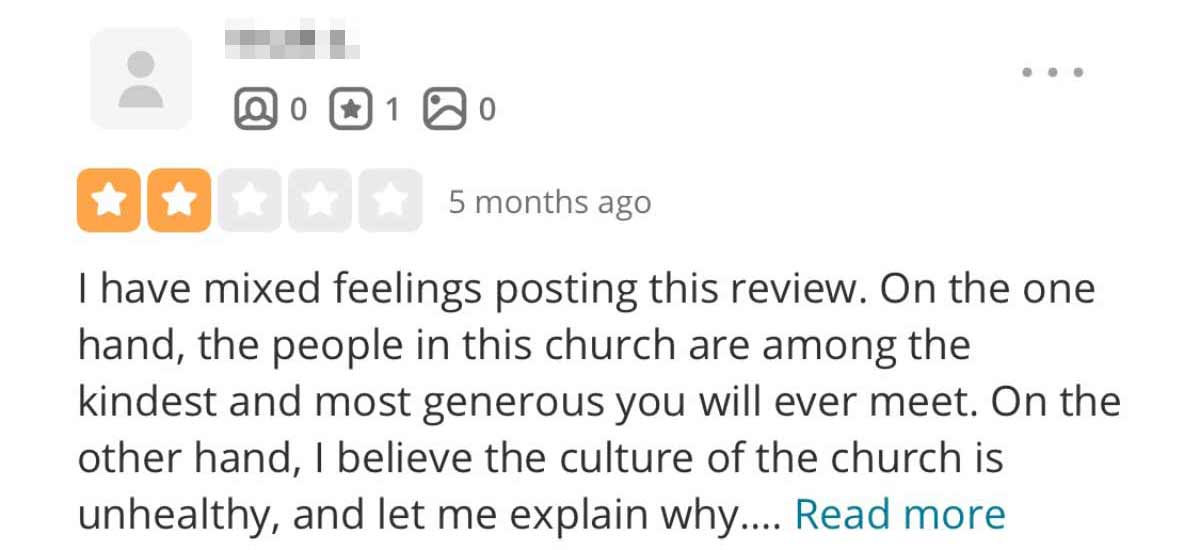 Full text of review (view screenshot of full review):
I have mixed feelings posting this review. On the one hand, the people in this church are among the kindest and most generous you will ever meet. On the other hand, I believe the culture of the church is unhealthy, and let me explain why.
I came to VS during a period where I was seeking friendship. I found That VS was a community who were willing to welcome me and get to know me. They assisted in very practical ways, and I found the small group to be a comfortable place. As I started to attend the rather lengthy set of membership trainings, certain positions that the church took began to raise some red flags. They were subtle, but perhaps because I have grown up in the church and attended many different styles of churches, I was able to discern something that seemed off.
The pastors for the most part are quite open to offer explanations for the specific practices of their church, and I did not disagree with all of them. Nonetheless, a few things seemed problematic. Firstly, relatively shallow theology and guilt tripping during sermons and team meetings; secondly, an excessive emphasis on tithing but a lack of financial transparency; thirdly an expectation that 'unity' comes about from everyone agreeing on the specific values and beliefs positions of the church with little room for variation (ie uniformity rather than true unity). Lastly, an emphasis on empire building for the church network and its specific ideology.
The church has a particular mission, to make disciples and to plant more churches. The making disciples presumably means to bring people in to the church who will ultimately be loyal to it and be relied upon to eventually help in church planting. The leaders of this church will likely spend their time with those they believe are future potential planters. Thus, the church exists to replicate itself, and does not tend to invest in activities that the members may view as valuable. It is a top-down structure where the members are naturally assumed to be followers until such time as the leaders believe they are ready. Obedience to leadership is a high priority for the church, and is stated so in their series class on 'community'. For the leadership, the pastor acts as the head elder and has full authority to appoint other elders, with no voting allowed from church members. This form of governance does not provide true accountability, for many of the reasons laid out in leavingthenetwork.org, who provide some concerning information regarding the culture of this church's network and its leadership.
What was particularly difficult was finding that I could no longer stay in this church, and knowing that to leave would threaten the friendships I had. I hope that I can maintain friendships, but I am under no illusions that once former members are out, then they are rarely spoken about again. If that doesn't worry you, perhaps it should. As Christians and a part of the global body of Christ, I have never before had to fear that I would lose friends over going to a different church from them. It simply has never come up before and makes me wonder why this particular community needs to be so exclusive.
By all means, try this church out, you'll be well loved if you can accept everything they want you to and don't ask too many questions. If not, I would give this one a pass, at least until such time (I hope) that the network repents of certain practices and recalibrate into something that more truly looks like its mandate to 'love God and love People'.
---
THIS IS AN UNHEALTHY CHURCH BECAUSE OF (1) ITS LEADERSHIP; (2) SHALLOW TEACHING; (3) FOCUS ON ONLY CERTAIN TYPES OF PEOPLE; AND (4) LACK OF CONFIDENTIALITY
Source: Vida Springs Church Google Review, May 2022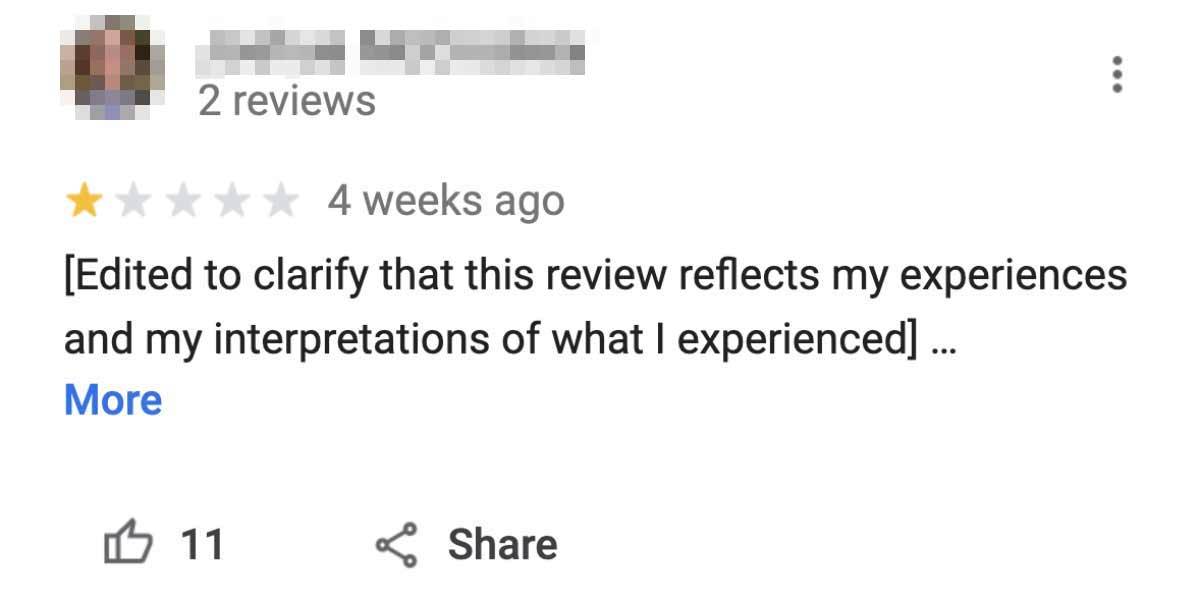 A NOTE ON THIS REVIEW:
Pastors within The Network rarely make public comments, however, this review includes a public response from Tony Ranvestel, lead pastor of Vida Springs Church. In his response Tony indicates that he met with the reviewer in response to this review and does not address the substance of the reviewer's concerns.
Full text of review (view screenshot of full review):
[Edited to clarify that this review reflects my experiences and my interpretations of what I experienced]
I attended Vida Springs Church for three years. I had many good experiences, and I care about many of the people there. The five star reviews explain the good things about the church. But, after reflecting on my time at Vida, I believe that it is an unhealthy church because of (1) its leadership; (2) shallow teaching; (3) focus on certain types of people; and (4) lack of confidentiality.
(1) Leadership
Vida is part of a network of churches led by Steve Morgan. The network churches reflect Steve's beliefs and preferences, including his extra-Biblical beliefs (Google "Leaving the Network and Steve Morgan"). While I was at Vida, I heard frequent teaching on following spiritual leaders. Because of that emphasis on leadership, I recommend that you learn more about the Network and its leaders before you visit or commit to Vida. I probably would not have attended for so long if I had known more about the Network.
One of the Network's practices is recruiting "homegrown" pastors. This means that Vida recruits men in their early twenties who have not attended seminary. Typically, these men have no formal education in theology or counseling. My experience was that these pastors were less helpful to me and to others because of the lack of formal pastoral schooling. I also think that recruiting homegrown pastors can be problematic in other ways. For example, I believe that the lead pastor inappropriately influenced one of my friends into agreeing to become a staff pastor.
(2) Shallow Teaching
The teachings on Sunday mornings tend to focus only on a few areas. The sermon series are cyclical. The same topics get covered every year or every couple years. For example, every year, the pastors teach basically the same sermon series on money management and giving.
(3) Focus on Certain Groups
The leadership intentionally targets college students and young professionals. I think that this focus creates an unhealthy church. If you visit, pay attention to the number of elderly and working class individuals you see. Notice if you see any individuals with physical or mental disabilities. Unless the church has significantly changed recently, you will see very few or none.
(4) No Confidentiality
Vida encourages the confession of sins and openness about life problems. But, unlike a traditional church confession, anything shared with one leader may be told to other leaders and other social groups in the church.
Tony Ranvestel (lead pastor of Vida Springs Church) response:
Dear <name redacted>, thanks for being willing to chat last week and talk through some of your concerns. We love you and are thankful for the time you spent being part of this church community. - Tony
---
PASTOR TONY TOLD US TO EXPECT TO FEEL PRESSURE, AND IF YOU DON'T LIKE IT, THIS CHURCH MAY NOT BE FOR YOU
Source: Vida Springs Church Google Review, May 2022
A NOTE ON THIS REVIEW:
This review includes a public response from the staff at Vida Springs Church (which does not appear to be from lead pastor Tony Ranvestel as it uses the "we" pronoun rather than "I"). In this response the staff indicate they want to add more families and older members to the church (addressing the reviewers' feeling out of place because of the lack of older members of the church), but they do not address the comment the reviewer made describing Tony's statement that attenders who don't like feeling pressure should leave Vida Springs Church.
Full text of review (view screenshot of full review):
Very young churchgoers, felt out of place. Pastor Tony told us to expect to feel pressure, and if you don't like it, this church may not be for you! He repeats himself up to 20 times in a service to make a point which feels demeaning
Vida Springs response:
Dear <name redacted>, we're sad that you felt out of place at Vida. Our vision is to be a multi-generational church with a special place in our hearts for the next generation. We are thankful for the families and older members who have joined our church and are looking forward to continued growth in that area! Also, please let us know if you'd like to talk in person about your other comments and concerns.
BACK TO STORIES:
STORIES: Read the stories of those who have left and who have consented to share their experiences from their time in Steve Morgan's Network of Churches