HOSEA CHURCH ONLINE REVIEWS
A collection of online reviews gathered from Google, Yelp, and other social media sites
ONLINE REVIEWS FOR HOSEA CHURCH IN RALEIGH, NORTH CAROLINA
BACKGROUND
Network churches heavily control their public image, going to great lengths to control information about their methods and practices. Leaders encourage church members to flood sites like Google Reviews with positive reviews for Network Churches (and, in some cases, for churches other than the one the reviewer attends). This practice of having members leave positive reviews on social media has had the effect of burying legitimate public criticism.
For an in-depth analysis and specific examples of how Network churches encourage leaders and members to flood review sites with positive reviews, read this article on NotOvercome.org.
WHY DO THESE REVIEWS MATTER?
These reviews matter because they corroborate the manipulative, abusive, and harmful practices which are documented throughout this site. We have chosen to surface these reviews because they give further voice to victims and provide additional reassurance to anyone who has experienced abuse within these high control groups that they are not alone.
NOTE: We are not surfacing all negative reviews which have been posted to crowdsourced review sites. Rather, we have selected entries which bear witness to a pattern of the behaviors outlined in our article "8 Signs of a Dysfunctional Church".
WHO WAS THE LEAD PASTOR OF HOSEA CHURCH WHEN THESE REVIEWS WERE WRITTEN?
David Bieraugel: lead pastor from 2019 - present
---
I'LL NEVER STAY IN A CHURCH THAT ABUSES POWER, OR USES MANIPULATIVE AND COERCIVE LANGUAGE/METHODS TO ENMESH PEOPLE INTO A "COMMUNITY" SYSTEM
Source: Hosea Church Google Review, April 2022
Full text of review (view screenshot of full review):
EDITING TO UPDATE: With the 80's arrest of the Network leader, Steve Morgan, for s. abuse of a minor now coming to light- an abuse that was allegedly shared with ALL network pastors (which would include the pastor at Hosea)- I feel compelled to state that any church run by people who are actively covering up this act and subsequent spiritual abuses is NOT a safe place.
If you're wondering how so many can review this as a place that feels welcoming and familial, please Google narcissistic lovebombing. It's easy to feel good at this church (it's designed that way), but don't let the dopamine drown out the red flags and the documented abusive practices.
//
REVIEW FROM 5/6/22:
Well, I've hesitated to leave a review, but since the (positive) Google reviews were part of what led me to try this church, I feel it's fair to contribute my own now that I've left.
My family began attending Hosea in the summer of 2021, and our experience there was largely positive. There were some things that seemed off- only being able to take communion at an exclusive "Team Hosea" meeting on Sunday nights that you could only attend if you were volunteering/serving, for example- but we were so eager to belong to a church community that we explained them away. In retrospect, we noticed valid red flags that I now know indicated deeper cultural aspects of this church and the network it belongs to.
(Ironic aside: One week one of the highest level network leaders preached at Hosea, and afterwards my husband and I walked out saying we were glad Hosea wasn't very directly connected with him/the network because we would NEVER attend that man's church- he was incredibly callous, harsh, and shared personal details of other's lives in an unkind and slanderous way from the pulpit, going so far as to say, "This isn't recorded, right? Ok, I'll tell this story..." It was gross.)
Anyways, we kept attending and even went to a membership class, and we were ready to commit. But in January 2022, by the grace of God, we learned about the Leaving the Network website and subreddit, read up on the *actual* practices, beliefs, and culture of this network of churches, found out how deeply connected Hosea (and all network churches) are with the network itself, and we quickly chose to leave. Hosea and the pastoral staff there ARE deeply connected to, and led and taught by, this network. It is NOT an independent church.
I'll never stay in a church that abuses power, or uses manipulative and coercive language/methods to enmesh people into a "community" system.
Overall, Hosea has some really nice people. They have good coffee and free donuts; some cool vibes and some weird vibes; and a good kids program. They also have unspoken check marks for righteousness that they've been taught by a highly controlling, damaging system of network leadership that they are required to submit to.
So, unfortunately, I don't recommend this church.
---
I LEFT BECAUSE THE CHURCH WAS TOO INSULAR
Source: Hosea Church Google Review, May 2022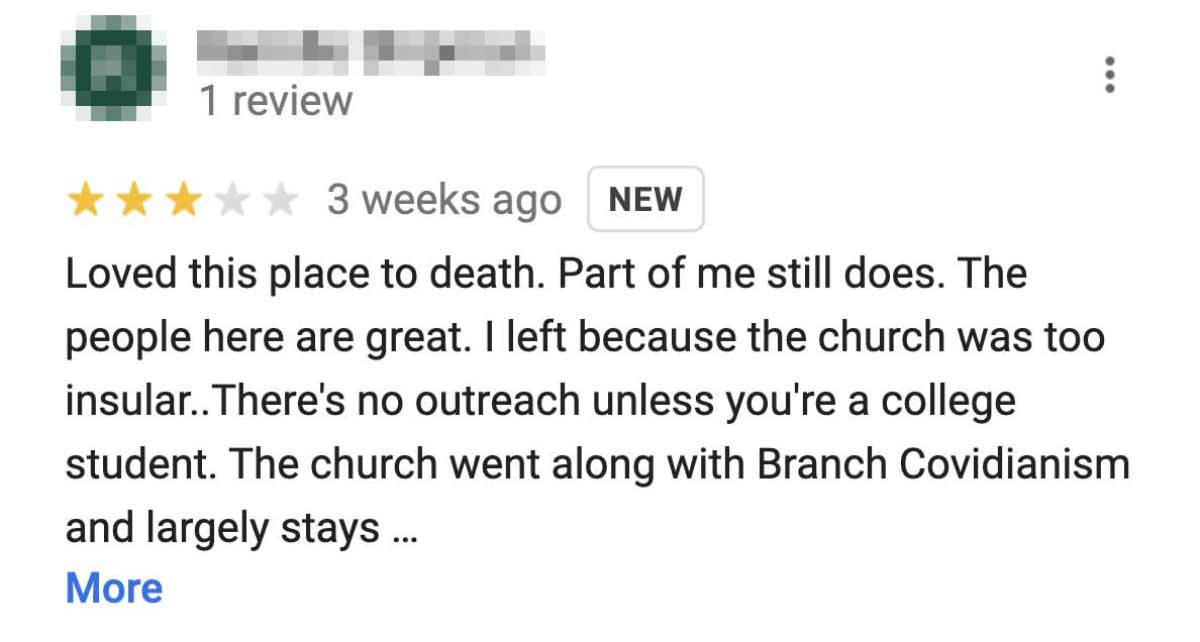 Full text of review (view screenshot of full review):
Loved this place to death. Part of me still does. The people here are great. I left because the church was too insular..There's no outreach unless you're a college student. The church went along with Branch Covidianism and largely stays quiet on the issues of the day but sadly 95 percent of American churches behave the same way. Many of you may not care about that, but my personal conviction is that Christ commands us to be salt and light. Plus, why does this Network hide that they are basically centrally operated? What are you trying to hide?? Why are you saying openly that this is a church for students, rich people, and families? This is unbibical partiality... These are red flags.
Not trying to sway you one way or the other. Hosea just wasn't for me anymore, so I broke off the engagement.
---
IT FELT LIKE WE WERE ALL PART OF THEIR PLOT TO GROW THE CHURCH AND THE NETWORK
Source: Hosea Church Google Review, June 2022

Full text of review (view screenshot of full review):
Unfortunately, I had to leave Hosea after seeing many red flags with their doctrine. Everyone I met is kind and welcoming, but good coffee and free donuts can't pay for unaltered doctrine.
Several reasons drove me away from an awesome-looking church. One, the vision is so focused on church planting, that although indirectly, the message is clear: they are allowing people to serve so they show how committed they really are so that if God says "The Network" they are a part of needs to build a new church in who knows where, they can hand pick you and off you go to plant a new church there. My take on this is simple, if GOD calls anyone to do this, He will work at that individual's heart. There's no need to do what honestly felt like brain washing and convincing.
I attended a few of the member classes and through conversations with the pastor and church members I realized how the focus is NOT on Jesus and how we are to be The Light. Instead, it's on how to achieve their growing goals. It felt like we were all a part of their plot, what they're planning behind the scenes, and it's all covered behind nice esthetics.
Personally, I'm not looking for a church thirsty for growth. I'm lookin for a church that prioritizes Jesus, how we are to live out His Word and, as a result, bear the fruit of all the spiritual health and well-being this brings.
---
WARNING: THIS CHURCH IS NOT WHAT IT SEEMS ON THE SURFACE
Source: Hosea Church Google Review, December 2022

Full text of review (view screenshot of full review):
WARNING: This church is not what it seems on the surface.
Almost half of this church plant has recently left this church due to issues with the leadership. If you are going to attend I recommend asking David about this to see if he provides an honest and humble answer.
David is ultimately not the pastor of this church and all of the influence and decision making comes from one man named Steve Morgan (president of The Network). The people here are super friendly and welcoming but if at any point you have legitimate questions or concerns about The Network or accountability of the leadership you will be called to submit and repent. I previously was a part of a spiritually abusive church that was very similar. At the end of the day the leaders and pastors have zero to no accountability. For these leaders the reputation of the organization is more important than the individuals that attend the church. I would say there is some major church idolatry within The Network churches.
---
NOT A SAFE CHURCH
Source: Hosea Church Google Review, September 2022

Full text of review (view screenshot of full review):
Not a safe church, leaving the network for the truth.
BACK TO STORIES:
STORIES: Read the stories of those who have left and who have consented to share their experiences from their time in Steve Morgan's Network of Churches