HIGH ROCK CHURCH ONLINE REVIEWS
A collection of online reviews gathered from Google, Yelp, and other social media sites
ONLINE REVIEWS FOR HIGH ROCK CHURCH IN BLOOMINGTON, INDIANA
BACKGROUND
Network churches heavily control their public image, going to great lengths to control information about their methods and practices. Leaders encourage church members to flood sites like Google Reviews with positive reviews for Network Churches (and, in some cases, for churches other than the one the reviewer attends). This practice of having members leave positive reviews on social media has had the effect of burying legitimate public criticism.
For an in-depth analysis and specific examples of how Network churches encourage leaders and members to flood review sites with positive reviews, read this article on NotOvercome.org.
WHY DO THESE REVIEWS MATTER?
These reviews matter because they corroborate the manipulative, abusive, and harmful practices which are documented throughout this site. We have chosen to surface these reviews because they give further voice to victims and provide additional reassurance to anyone who has experienced abuse within these high control groups that they are not alone.
NOTE: We are not surfacing all negative reviews which have been posted to crowdsourced review sites. Rather, we have selected entries which bear witness to a pattern of the behaviors outlined in our article "8 Signs of a Dysfunctional Church".
WHO WAS THE LEAD PASTOR OF HIGH ROCK WHEN THESE REVIEWS WERE WRITTEN?
Scott Joseph: lead pastor from 2008 - present
---
READER BEWARE! THIS PLACE IS A TINY CULT THAT WANTS YOUR MONEY
Source: High Rock Church Yelp Review, 2 February 2017
Full text of review (view screenshot of full review):
I've attended this church for about two years because my significant other wanted to try it, but we're done. This church is more like a tiny cult with no real understanding of the truth.
First, the lead pastor Scott Joseph does most of the teaching, but he's a horrible teacher. He brings up Chicago pizza at least twice a month, tithing almost every week, and a short version of the prosperity gospel every Sunday. He has obviously never had to worry about anything in his whole or make a tough decision in his life (except whether or not to be a pilot or a pastor) and doesn't seem to understand that others have had to make much harder choices or had much harder situations in their lives. He never discusses anything people could be going through or any applicable situations like divorce, adultery, drugs, family, children, sex, death, or any other topic that is a real struggle.
In the last two years, I swear!, I've heard about prayer, "God is so good," "all you need is Jesus - even if you have depression!," and that we must tithe at least 10% of our income before taxes regularly.
For the culty part, they are all about inviting and including new people. They make these little cards to hand out to strangers to invite them to church and pass them out all the time. People invite their friends, family, and strangers, and then people include them in everything that happens. Sounds great until you want something more than from the actual sermon or to learn to really live life with God.
If you try to leave, people will do everything to guilt you into staying. They will tell you to just trust Scott Joseph, that he's wonderful, and that it's still a young church. When people do leave, their "friends" cut them off completely. I have heard people say that they miss such-and-such but won't call or text because they "can't be a part of their life anymore." That it's just "too hard to try to have a relationship with them now that they don't go to High Rock anymore." It's fucking weird.
And really, the people aren't that loving. They seem that way, until you are going through a real struggle or have a real problem with something. Then they can't have that in their lives. I've heard people turn their backs on others for visiting different churches or saying a bad word about Scott Joseph.
After the whole refugee ban, Scott Joseph didn't even acknowledge it that Sunday. He focused on how to pray and that we should be making new friends and inviting them to church more often. They he brought up tithing. I, my significant other, and many of our close friends were upset because we felt that no matter what the politics are, any christian can agree that they should help those in need, which includes refugees. I and some of my friends were involved in volunteer efforts to help refugees resettling in America. So for Scott Joseph to ignore what is a moral and love issue was shocking, but after two years of him not talking about anything in the real world, it was really not a big surprise too. My significant other and I are leaving for these reasons.
Reader beware! This place is a tiny cult that wants your money and will sell you a conservative prosperity doctrine that looks like christianity, but really isn't.
---
EXTREMELY CONTROLLING PLACE
Source: High Rock Church Yelp Review, 12 February 2019

Full text of review (view screenshot of full review):
Extremely controlling place. Run. Leave. A man should NEVER have this amount of control over your life. When my family and I left because of these reasons, I was labeled a 'Jezebel' and my husband 'weak' for not controlling me.
Super phony leadership. We stayed as long as we did because some of the lay members were true believers. Grateful some of them got out. Sickened at the price they paid to do so.
---
WHEN I LEFT I WAS A SHELL OF A WOMAN WITH A SHATTERED SELF ESTEEM AND NO SENSE OF AGENCY
Source: High Rock Church Yelp Review, 30 September 2021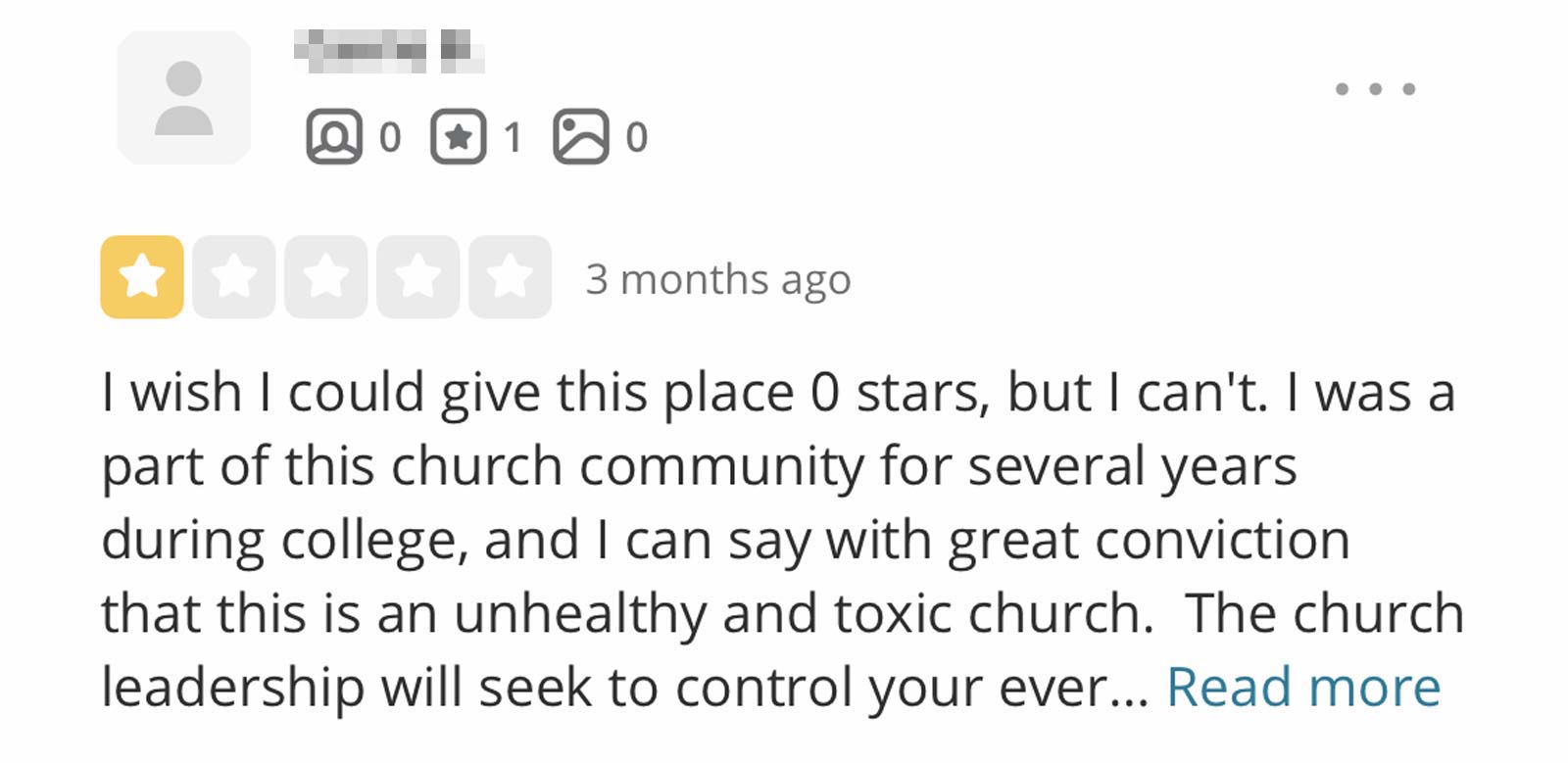 Full text of review (view screenshot of full review):
I wish I could give this place 0 stars, but I can't. I was a part of this church community for several years during college, and I can say with great conviction that this is an unhealthy and toxic church.  The church leadership will seek to control your every decision, and will particularly demand total obedience from its women.  When I told leadership I was leaving back in 2014 to move to New York City, I was warned that if God wasn't actually calling me there, I was risking Him abandoning me and losing my salvation.
I was also told "We have just been praying that the Lord would change everything about you, so that you won't desire to leave."
When I left I was a shell of a women with a shattered self esteem and no sense of agency.
Praise God that He is the One who gets the final say.  I am now happy and healthy in a theologically sound church, and am married to an incredible man of Faith working on his PhD in Theology.  He has shown me the true meaning of complementarianism and male leadership, and shows me love and respect as his friend and partner.  We respect our church leaders, but make our own decisions with their input because we are two intelligent adults.
This church will pretend to love you, but do not believe their enticing promise of community and love. They will only hurt you.
---
THE LEVEL OF SPIRITUAL ABUSE AND MANIPULATION OUTWEIGHS ANY OF THE POSITIVE TRAITS
Source: High Rock Church Google Review, March 2022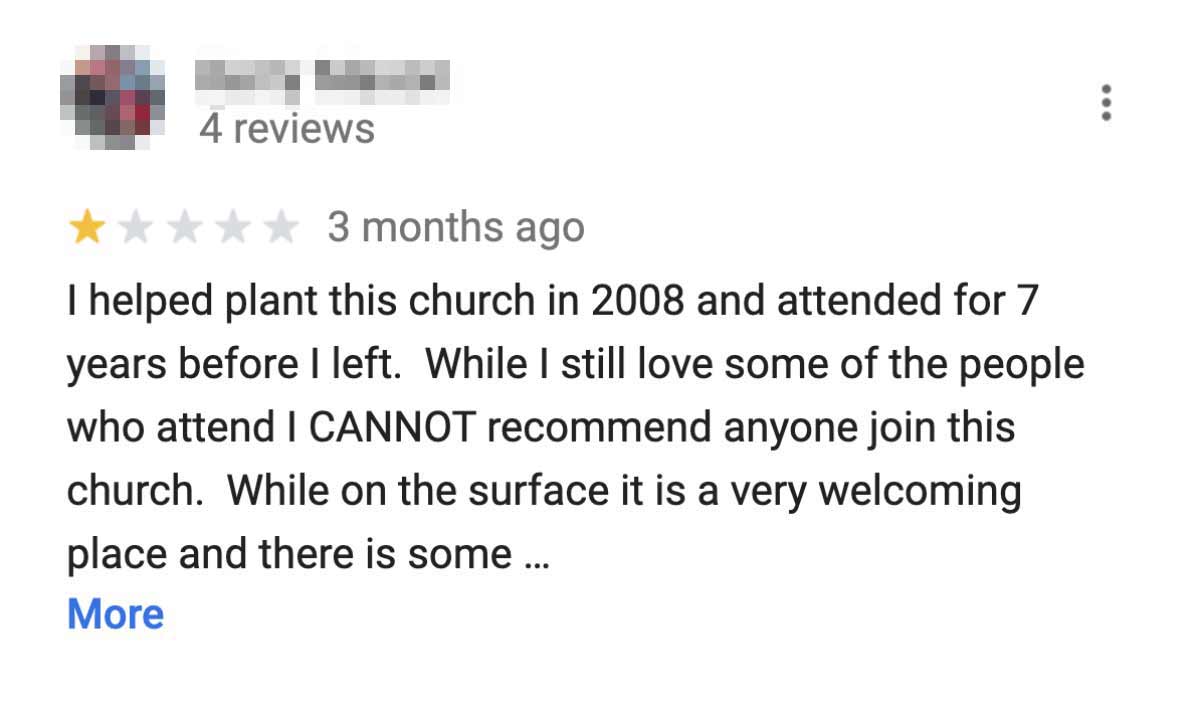 Full text of review (view screenshot of full review):
I helped plant this church in 2008 and attended for 7 years before I left. While I still love some of the people who attend I CANNOT recommend anyone join this church. While on the surface it is a very welcoming place and there is some biblical teaching the level of spiritual abuse and manipulation outweighs any of the positive traits.
Google leaving the network to read more about the history of this network of churches, the poor structure and lack of accountability.
---
A BROKEN SYSTEM FULL OF UNBIBLICAL HATRED, CRUELTY, JUDGEMENT AND GREED
Source: High Rock Church Google Review, March 2022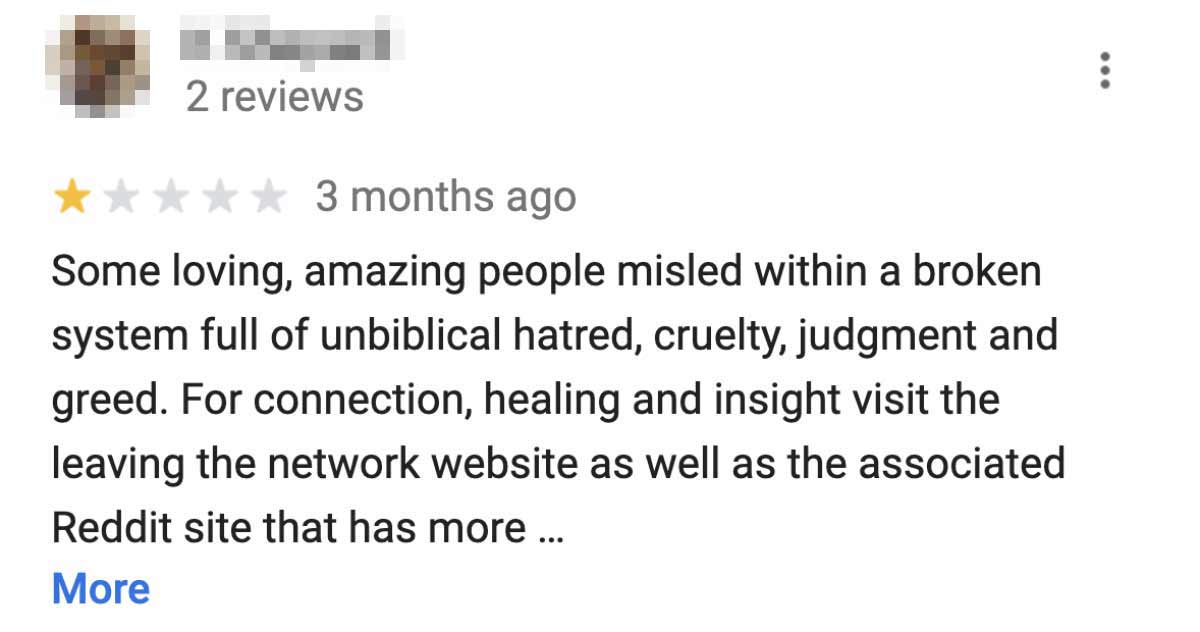 Full text of review (view screenshot of full review):
Some loving, amazing people misled within a broken system full of unbiblical hatred, cruelty, judgment and greed. For connection, healing and insight visit the leaving the network website as well as the associated Reddit site that has more than 450 members in healing after being part of this unnamed network of churches. If you are wondering why all the Google reviews are positive, it is because they actively remove the negative ones. Literally every couple days.
Also, keep an eye out because these reviews keep getting deleted. I attended for 7 years. I still live in Bloomington. There is no reason this review should be flagged, but yet I re-post (as do others) every few days because of the reviews getting removed. It is just sad.
---
HIGH ROCK CHURCH IS A DANGEROUS PLACE
Source: High Rock Church Yelp Review, April 2022
High Rock Church is a dangerous place. My husband and I were members and very involved for four years, and are so thankful to have moved away from Bloomington and this "church." From the outside, the church appears friendly, caring, and a fairly mainline Christian church. However, we found the church and leadership to be manipulative, demanding, arrogant, and not in line with the teachings of Jesus. Google "Leaving the Network" to learn more.
BACK TO STORIES:
STORIES: Read the stories of those who have left and who have consented to share their experiences from their time in Steve Morgan's Network of Churches