CLEAR RIVER CHURCH ONLINE REVIEWS
A collection of online reviews gathered from Google, Yelp, and other social media sites
ONLINE REVIEWS FOR CLEAR RIVER CHURCH IN LAFAYETTE, INDIANA
BACKGROUND
Network churches heavily control their public image, going to great lengths to control information about their methods and practices. Leaders encourage church members to flood sites like Google Reviews with positive reviews for Network Churches (and, in some cases, for churches other than the one the reviewer attends). This practice of having members leave positive reviews on social media has had the effect of burying legitimate public criticism.
For an in-depth analysis and specific examples of how Network churches encourage leaders and members to flood review sites with positive reviews, read this article on NotOvercome.org.
WHY DO THESE REVIEWS MATTER?
These reviews matter because they corroborate the manipulative, abusive, and harmful practices which are documented throughout this site. We have chosen to surface these reviews because they give further voice to victims and provide additional reassurance to anyone who has experienced abuse within these high control groups that they are not alone.
NOTE: We are not surfacing all negative reviews which have been posted to crowdsourced review sites. Rather, we have selected entries which bear witness to a pattern of the behaviors outlined in our article "8 Signs of a Dysfunctional Church".
WHO WAS THE LEAD PASTOR OF CLEAR RIVER CHURCH WHEN THESE REVIEWS WERE WRITTEN?
Tony Ranvestel: lead pastor from 2006 - 2016
Zach Miller: lead pastor from 2016 - 2020
Jimmy Yo: lead pastor from 2020 - present
---
IF YOU ASK QUESTIONS, OR GO AGAINST WHAT THEY THINK, LEADERSHIP WILL KICK YOU OUT OF THE CHURCH
Source: Clear River Church Google Review, 2018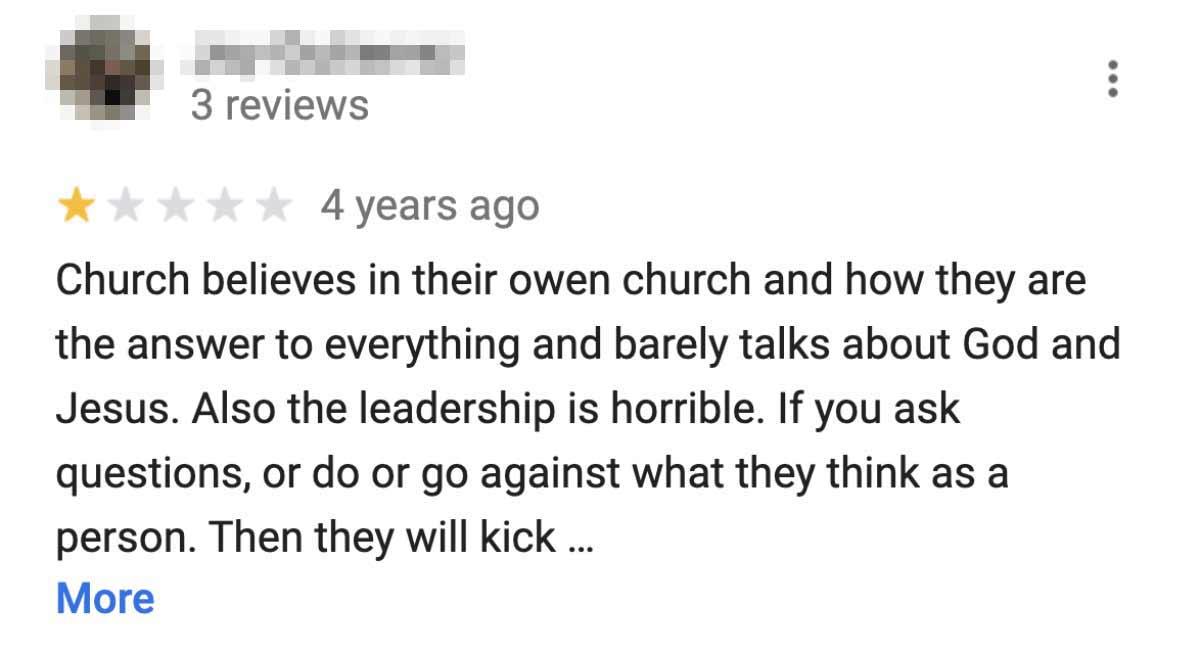 Full text of review (view screenshot of full review):
Church believes in their owen (sp - own) church and how they are the answer to everything and barely talks about God and Jesus. Also the leadership is horrible. If you ask questions, or do or go against what they think as a person. Then they will kick you out of the church. They asked two of my friends to leave the church cause they were not following the church's "way." Don't go to this church!
---
THEY USE YOU UP AND THEN SPIT YOU OUT WHEN YOU BECOME COMPLICATED
Source: Clear River Church Google Review, 2018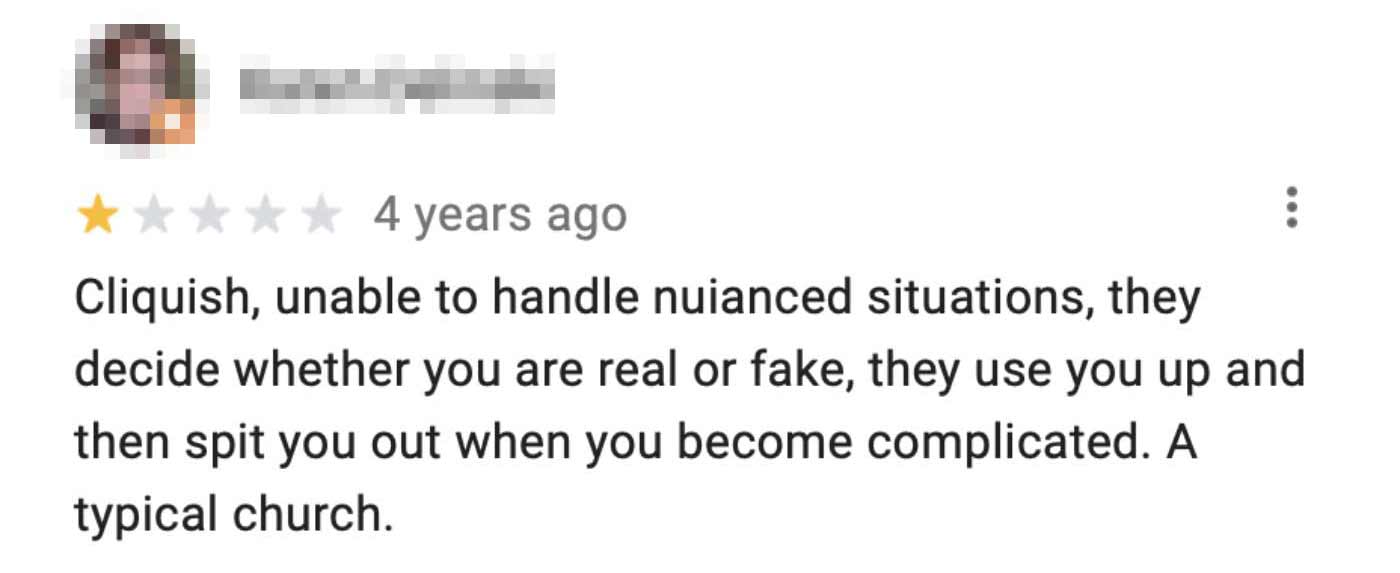 Full text of review (view screenshot of full review):
Cliquish, unable to handle nuanced situations, they decide whether you are real or fake, they use you up and then spit you out when you become complicated. A typical church.
---
THEY USED SCRIPTURE ABOUT THE BELIEVERS LAYING THEIR POSSESSIONS AT THE DISCIPLES' FEET TO TEACH TITHING TO MEET THEIR WEEKLY GOAL
Source: Clear River Church Google Review, April 2022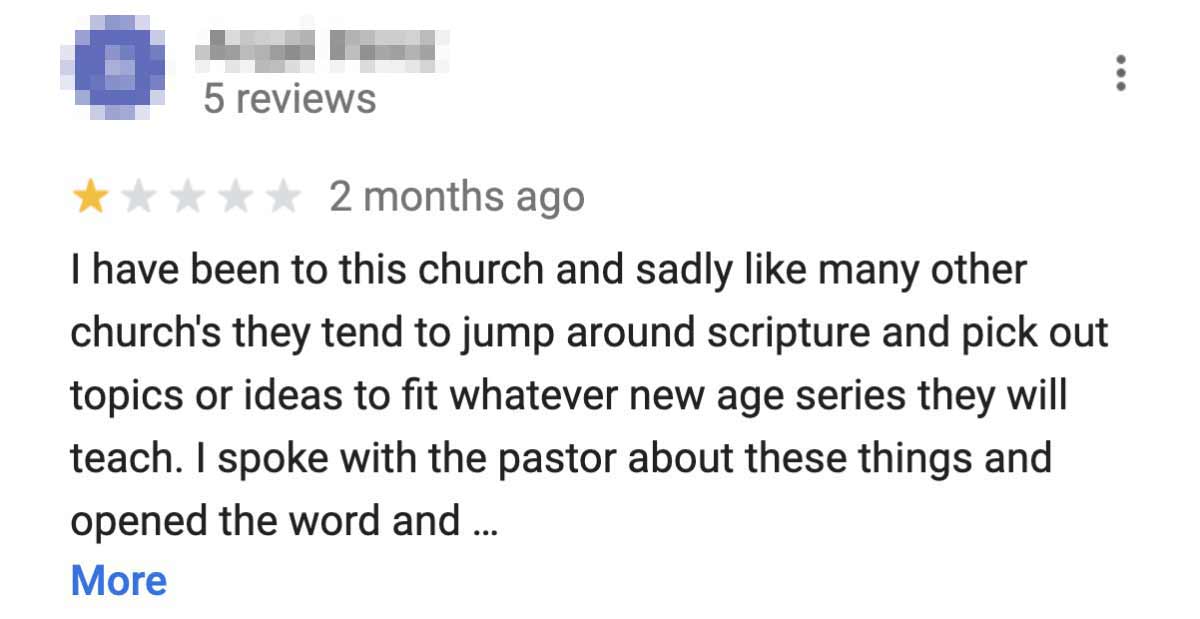 Full text of review (view screenshot of full review):
I have been to this church and sadly like many other church's they tend to jump around scripture and pick out topics or ideas to fit whatever new age series they will teach. I spoke with the pastor about these things and opened the word and I got a fruitless response of I don't have to attend this church. I listen to a sermon about water baptism afterward I ask if they preached about baptism of fire and spirit the pastor was not happy about that. I have heard them preach perfection is not possible which is against what the Bible teaches. I then heard a series about their church history and they used scripture about the believers laying their possession at the Disciples feet in attempt of trying to teach tithing and making their weekly goal and even worse I witness some homeless folks come inside and ask for some food which they did give however they pushed them right out the door. I asked the pastor why he didn't give them the gospel and he was speechless. John 10 says. Please beware that you always verify what your being taught by scripture for a true believer will not follow the voice of a stranger but will FLEE
John 10:1-5 NKJV — "Most assuredly, I say to you, he who does not enter the sheepfold by the door, but climbs up some other way, the same is a thief and a robber. "But he who enters by the door is the shepherd of the sheep. "To him the doorkeeper opens, and the sheep hear his voice; and he calls his own sheep by name and leads them out. "And when he brings out his own sheep, he goes before them; and the sheep follow him, for they know his voice. "Yet they will by no means follow a stranger, but will flee from him, for they do not know the voice of strangers."
BACK TO STORIES:
STORIES: Read the stories of those who have left and who have consented to share their experiences from their time in Steve Morgan's Network of Churches