BROOKFIELD CHURCH ONLINE REVIEWS
A collection of online reviews gathered from Google, Yelp, and other social media sites
ONLINE REVIEWS FOR BROOKFIELD CHURCH IN ATHENS, OHIO
BACKGROUND
Network churches heavily control their public image, going to great lengths to control information about their methods and practices. Leaders encourage church members to flood sites like Google Reviews with positive reviews for Network Churches (and, in some cases, for churches other than the one the reviewer attends). This practice of having members leave positive reviews on social media has had the effect of burying legitimate public criticism.
For an in-depth analysis and specific examples of how Network churches encourage leaders and members to flood review sites with positive reviews, read this article on NotOvercome.org.
WHY DO THESE REVIEWS MATTER?
These reviews matter because they corroborate the manipulative, abusive, and harmful practices which are documented throughout this site. We have chosen to surface these reviews because they give further voice to victims and provide additional reassurance to anyone who has experienced abuse within these high control groups that they are not alone.
NOTE: We are not surfacing all negative reviews which have been posted to crowdsourced review sites. Rather, we have selected entries which bear witness to a pattern of the behaviors outlined in our article "8 Signs of a Dysfunctional Church".
WHO WAS THE LEAD PASTOR OF BROOKFIELD CHURCH WHEN THESE REVIEWS WERE WRITTEN?
Aaron Kuhnert: lead pastor from 2011 - present
---
PART OF A NETWORK OF CHURCHES THAT IMPLEMENT CULT-LIKE TACTICS TO ENTRAP PEOPLE
Source: Brookfield Church Google Review, February 2022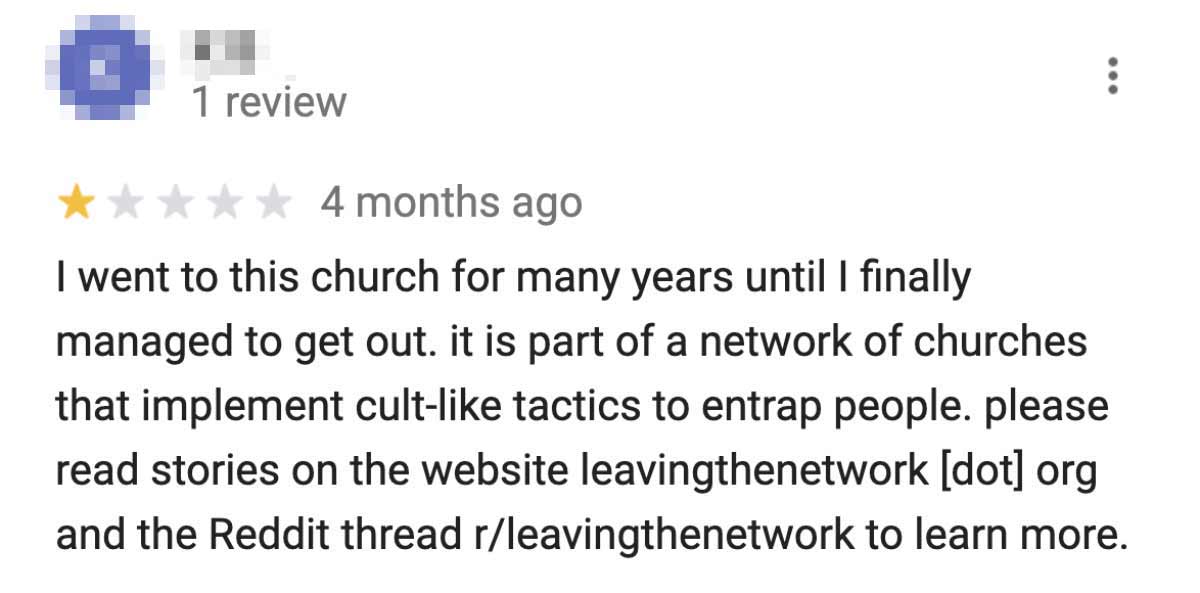 I went to this church for many years until I finally managed to get out. it is part of a network of churches that implement cult-like tactics to entrap people. please read stories on the website leavingthenetwork [dot] org and the Reddit thread r/leavingthenetwork to learn more.
---
THEY WILL HAPPILY RUIN YOUR LIFE IF IT MEANS YOU'RE STUCK GOING TO THEIR CHURCH FOREVER
Source: Brookfield Church Google Review, April 2022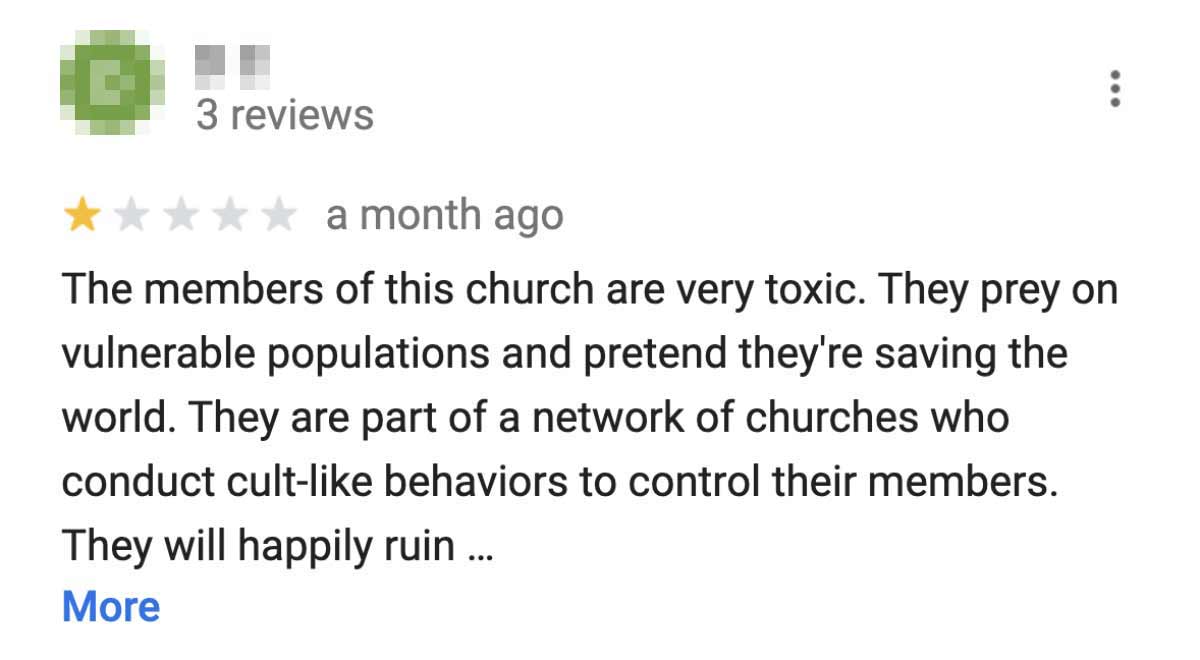 Full text of review (view screenshot of full review):
The members of this church are very toxic. They prey on vulnerable populations and pretend they're saving the world. They are part of a network of churches who conduct cult-like behaviors to control their members. They will happily ruin your life if it means youre stuck with going to their church forever. They convince their members that the only people who can be trusted are those who are members of this church only. Stay far away.
---
THEY'LL TURN YOU INTO A MINDLESS DRONE, CHEWING YOU UP FOR ALL THEY CAN GET FROM YOU, THEN SPIT YOU OUT WHEN YOU SHOW SIGNS OF STRUGGLE
Source: Brookfield Church Google Review, April 2022
Full text of review (view screenshot of full review):
I've debated whether to post this or not for a while now but I can't in good conscience stay quiet.
I moved from Illinois to Athens in July 2011 to help plant Brookfield. In total I gave 7 years of my life to this network of churches. What started out great and fulfilling quickly turned sour once I got deeper into it. This network preys on lonely vulnerable college students, and will love bomb you so you stick around.
They will quickly identify who they want to raise up as the next leaders, which means who are the most winsome men with daddy issues who are the easiest to manipulate.
If you're a woman, don't bother trying to do anything of value in the network as you are relegated to child care, party planning, and not having any autonomy over your life unless a man allows it. They will constantly pressure you to give your whole life to the church, and will drain you of your money, time, and mental health until you wake up years later a shell of your former self, unable to identify where you end and the network begins. They'll turn you into a mindless drone, chewing you up for all they can get from you, then spit you out when you show signs of struggle because they've recruited 10 more college students to fill your role.
If you join here be prepared to share the deepest darkest dirtiest parts of your life, only for your leader to gossip it back to the other group leaders, pastor, and pastors of other churches. Then they'll use that junk to manipulate you even more.
That's only the tip of the iceberg. I urge anyone reading to google "leaving the network" (you can read my full story there too) and stay away from this abusive network.
BACK TO STORIES:
STORIES: Read the stories of those who have left and who have consented to share their experiences from their time in Steve Morgan's Network of Churches