BLUE SKY CHURCH ONLINE REVIEWS
A collection of online reviews gathered from Google, Yelp, and other social media sites
ONLINE REVIEWS FOR BLUE SKY CHURCH IN SEATTLE (BELLEVUE), WASHINGTON
BACKGROUND
Network churches heavily control their public image, going to great lengths to control information about their methods and practices. Leaders encourage church members to flood sites like Google Reviews with positive reviews for Network Churches (and, in some cases, for churches other than the one the reviewer attends). This practice of having members leave positive reviews on social media has had the effect of burying legitimate public criticism.
For an in-depth analysis and specific examples of how Network churches encourage leaders and members to flood review sites with positive reviews, read this article on NotOvercome.org.
WHY DO THESE REVIEWS MATTER?
These reviews matter because they corroborate the manipulative, abusive, and harmful practices which are documented throughout this site. We have chosen to surface these reviews because they give further voice to victims and provide additional reassurance to anyone who has experienced abuse within these high control groups that they are not alone.
NOTE: We are not surfacing all negative reviews which have been posted to crowdsourced review sites. Rather, we have selected entries which bear witness to a pattern of the behaviors outlined in our article "8 Signs of a Dysfunctional Church".
WHO WAS THE LEAD PASTOR OF BLUE SKY WHEN THESE REVIEWS WERE WRITTEN?
Steve Morgan: 2004 - 2017
David Bieragual: 2017 - 2019
Krsevan Penzar: 2019 - present
---
THIS CHURCH IS HIGHLY POLARIZING
Source: Blue Sky Church Google Review, 2014
Full text of review (view screenshot of full review):
This church is highly polarizing. If you meet some of the people there, or read the reviews here, you'll hear all the glowing praises. The great music, good coffee, and welcoming people who are earnest and obedient. Many of whom quit their jobs, left their families and moved from the bible belt to plant this church. The church is very thoughtful about the experience it is trying to create especially for young impressionable newcomers. You'll be hard to find a more committed group of people who sacrifice a lot of their time and money. There's enough praise in these reviews that I'm going to offer a different view.
Before I do, it's important to keep in mind that churches are run by imperfect people, and often times, when bad experiences happen, its usually individuals with good intentions that say or do something wrong. You will never find a perfect church...ever. But there are some practices that are systemic in nature here that create the same set of issues happening over and over again that go beyond good intentions. And the church is pretty clear. If you don't like it, find another church. I outline what those are in a factual manner, and I have tried to remove my own feelings or interpretation. So if someone wants to refute these on a factual basis, they can. I reserve my own commentary in the final paragraph.
First, there is a very unique culture where conformity is key. There is a way you do pray by getting uncomfortably close to people and laying hands, praying by repeating the words that God puts in your head, and interpreting your dreams as signs or visions from God. For example, someone may say to you, "I have this voice that is God telling me that you should stop feeling guilty about your past..." Statements that are generally obvious yet vague enough to be true in some way that prompts some sort of response. And although the church seems contemporary and young, it is extremely conservative, and fundamentalist. They believe in literal interpretation of the Bible. There is a belief that there are those who have the gifts of healing and the gift of speaking in tongues. And what's most apparent is how unusually nice people are to newcomers, commonly described as lovebombing. Bombarding newcomers with attention, kindness and love with the sole purpose of conforming you to their mold. Having experienced it myself, I have to say it works pretty well, until you realize its not real and its not about you as a person.
The most notable aspects of the church, is it's authoritarian stance. Hebrews 13:17 is an oft cited verse. You are not encouraged to question your leaders and you must follow their direction in all aspects of your life. If you do not, you will be reprimanded, have your commitment to God questioned or asked to leave. Infractions include showing up late, not attending small group regularly (even if its due to work or family reasons), or not giving sufficiently to the church which is monitored and tracked. Leadership is purely autocratic, run through a head pastor, and enforced by a staff of young pastors with no formal theology training. Bylaws are not public, and elders are selected by the head pastor, so there is no system for accountability. Budget is also a private matter; to ask for it, is to question the authority of your leaders, and God. Only giving is shared relative to the monthly goals, which pressures members to give more, with zero insight on spending.
You can decide if this is the right church for you. I won't judge you either way. But if you've gone there and it didn't feel right, please don't judge other churches based on your experience here.
---
I DON'T THINK THEY LIKE DIVERSITY HERE
Source: Blue Sky Church Yelp Review, 19 December 2015 to 6 August 2017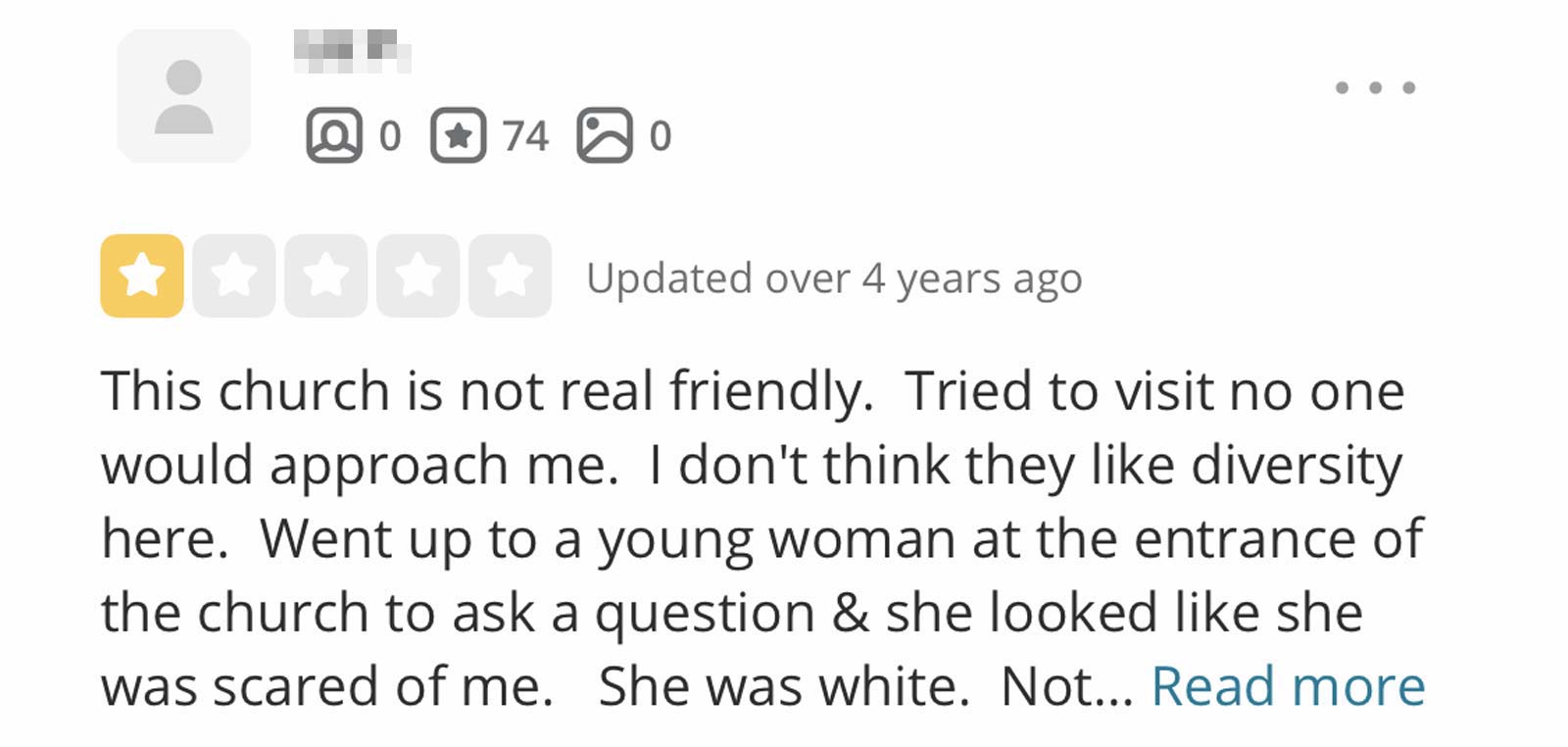 Full text of review (view screenshot of full review):
6 August, 2017
This church is not real friendly. Tried to visit no one would approach me. I don't think they like diversity here. Went up to a young woman at the entrance of the church to ask a question & she looked like she was scared of me. She was white. Not a tolerant place. I haven't been back. So you want people to come to church, then if they aren't looking a certain way like weighing in at 120 pounds, pasty, married, and boring no one will approach. It's turning into a white wash community me thinks.
26 April, 2017
Guess I wasn't important enough to get a response. To my last review. how come people just IGNORE YOU??
19 December, 2015
I'm brand new with my Walk with Jesus. I'm leaving a very toxic former life behind & I'm trying to start fresh. I visited this Church about 2 years ago, and it was not real receptive. I'm single, no kids and basically all alone in the World. However no one would approach me. I come from a bad background, hung around all the wrong types of people so I'm feeling pretty vulnerable.
I went inside the vestibule where I found about 5-6 tables full of pastries. That part was wonderful! Reason? I can barely afford groceries so that was a treat! However the rest of the visit I just couldn't help but feel out of place. I did walk around the huge lobby there were a few people sitting here & there, I had come in between services. I do remember a lady there who seemed to be supervising or whatever sort of checking things out throughout the lobby. Unsure who she was.
Once the service ended...BOOM! scores of people, families, children were everywhere! And oh boy did I feel out of place. See, I never married and for good reason I didn't want to marry the wrong guy. Never had children. I've never been lucky to meet any good people. Unfortunately I've been all alone. Had no support whatsoever.
Anyway prior to leaving the Church I did make an attempt to talk with a young woman she seemed to be in her teens I guess. However she seemed scared of me, why? I'm not real sure. Why have a greeter at the door & not greet everyone equally. I like to feel like I'm the most special person in the room, and not have the person be nervous to even talk to me. Because that makes me feel uneasy with myself.
Everyone needs to realize that not everyone is coming from the same place. Me for example, I've had such an impossible time meeting quality people. The WRONG people I've met plenty of those.
I come from a pretty disadvantaged background & all I want is acceptance from the right kinds of people. Thanks
---
THIS CHURCH IS FOR YOU, IF...
Source: Blue Sky Church Yelp Review, 23 April 2018

Full text of review:
Lets save you some time here - If you're young, you have calvinist or fundamentalist leanings, you like authoritative leadership and you think women have no place leading, then this church is for you! You will be welcome into their folds.
If you don't agree with any of this don't waste your time!
---
I WAS SCOLDED FOR POSTING THIS
Source: Blue Sky Church Google Review, 2018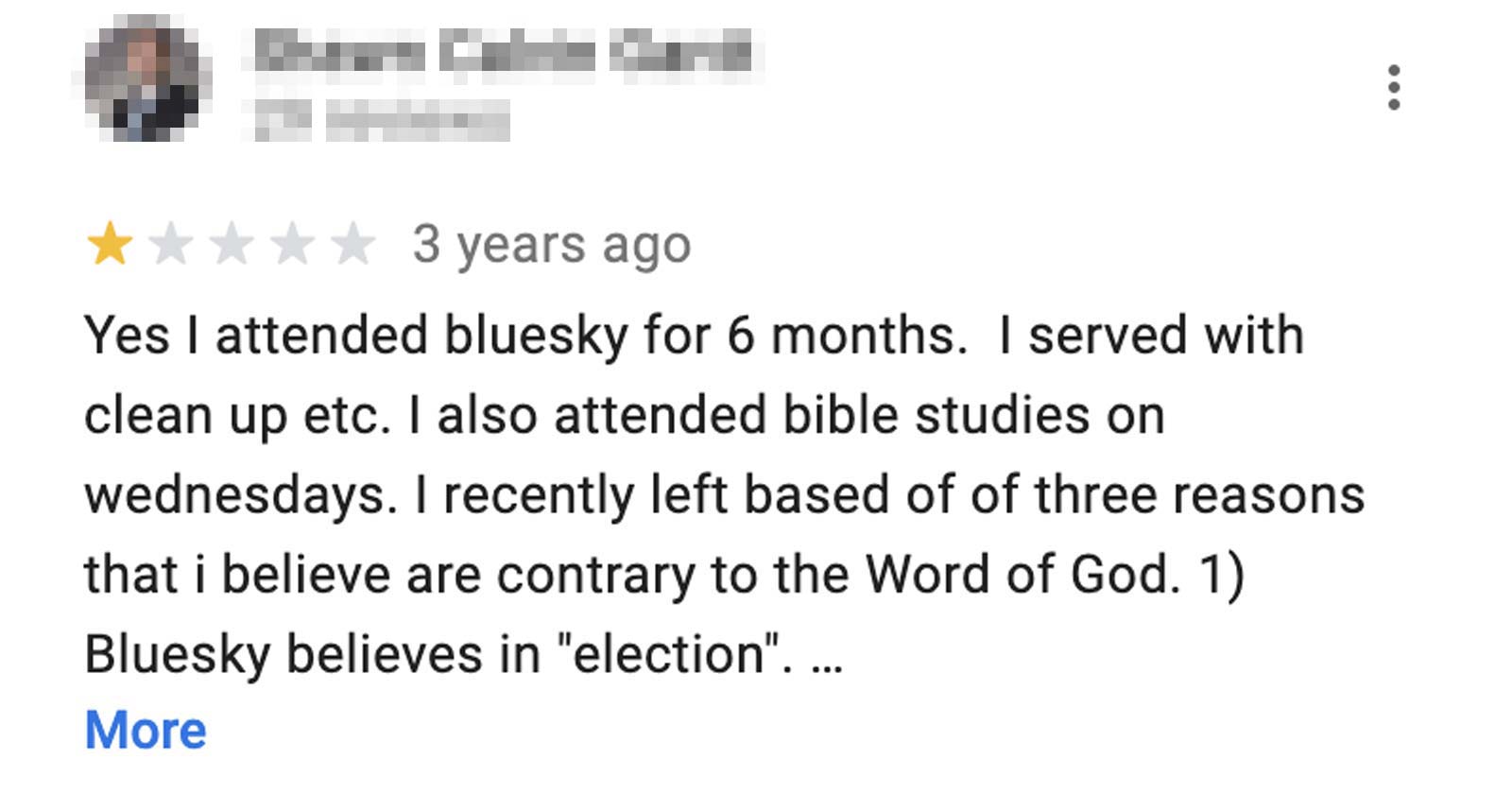 Full text of review (view screenshot of full review):
Yes I attended bluesky for 6 months. I served with clean up etc. I also attended bible studies on wednesdays.
I recently left based of of three reasons that i believe are contrary to the Word of God.
1) Bluesky believes in "election". Thier website states this clearly. Election means they teach that God gave his life not for all but for just some "the elect".
2) They also make you sign a church covenant that requires you to pay 10% of your income to them.
3) They discourage you from saying "amen" or "halleluyah" during the message bee cause they don't want you to offend the person next to you. In turn this offended me because I felt the holy spirit being quenched and controlled. It felt lifeless during the message. I have two stars however because the worship music was good. You can sing and lift your hands during the music. But once the music is over you have to be quiet again. It was kinda creepy.
The pastors are young and just took over the church less than a year ago. I think the lead pastor is slowly breaking away from the prior lead pastors way of doing things but it could take years before the culture changes.
This is my second time posting this. My friends who still attend bluesky scolded me for leaving my review so I deleted it. But I'm reposting because I have a voice and it's my God given right to express myself.
Hopefully bluesky allows the holy spirit to express Himself in His own house soon.
---
THEY LOVE POTENTIAL HIGH INCOMERS
Source: Blue Sky Church Google Review, 2018
Full text of review:
Looking good. But they r filtering venerable (sp. vulnerable?) people. They love students (potential high incomers) and people w stable offerings to church. It is so far away from God's Love.
---
COLLEGE STUDENTS KICKED OUT OF SMALL GROUP FOR NOT BECOMING MEMBERS
Source: Blue Sky Church Yelp Review, 2 January 2019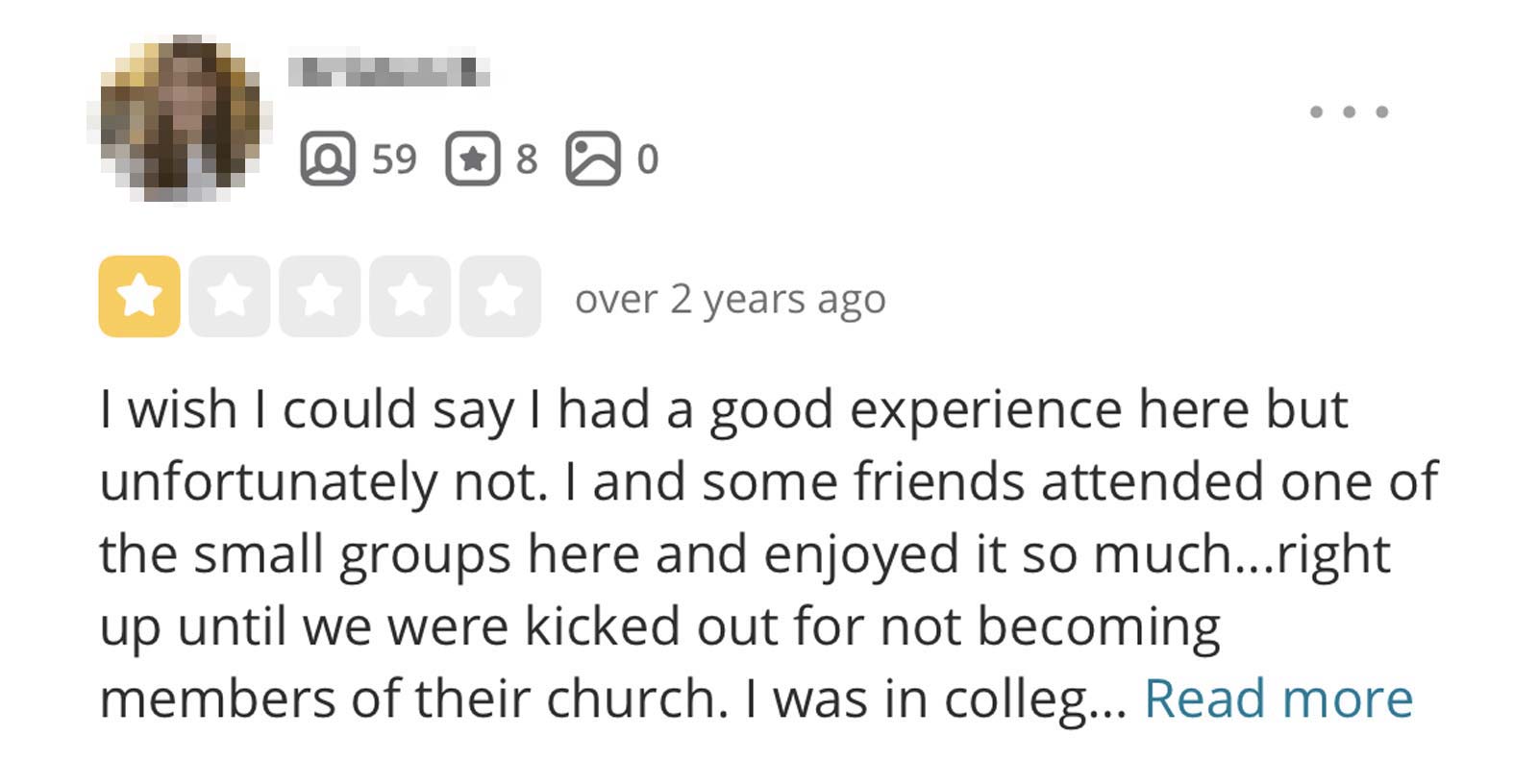 Full text of review (view screenshot of full review):
I wish I could say I had a good experience here but unfortunately not. I and some friends attended one of the small groups here and enjoyed it so much...right up until we were kicked out for not becoming members of their church.
I was in college and attended a church closer to home and couldn't afford to drive so far more than once a week, my friends were unable because they had obligations at their church on Sunday's and none of us had small group opportunities where we attended on Sundays. We all came to this small group because it was one of the few college age small groups and we were promptly turned away.
I've grown up and spend time at many churches and other ministries and no other church or church camp was ever so exclusive. It pains me and my friends that we were kicked out for seeking the company of other God-loving peers, only to be turned away. Jesus would NEVER do that. In fact he did the opposite when he told his children to come to Him after his deciples tried to turn them away. A church should welcome people who are avidly seeking God even if they go to another church one other day of the week, not make it a members only club. God did not say you could only have decipleship with one church. We are ALL the body of Christ.
Having this church slam the door in our faces was incredibly disheartening.
---
ABSOLUTE CULT CHURCH
Source: Blue Sky Church Yelp Review, 2 November 2019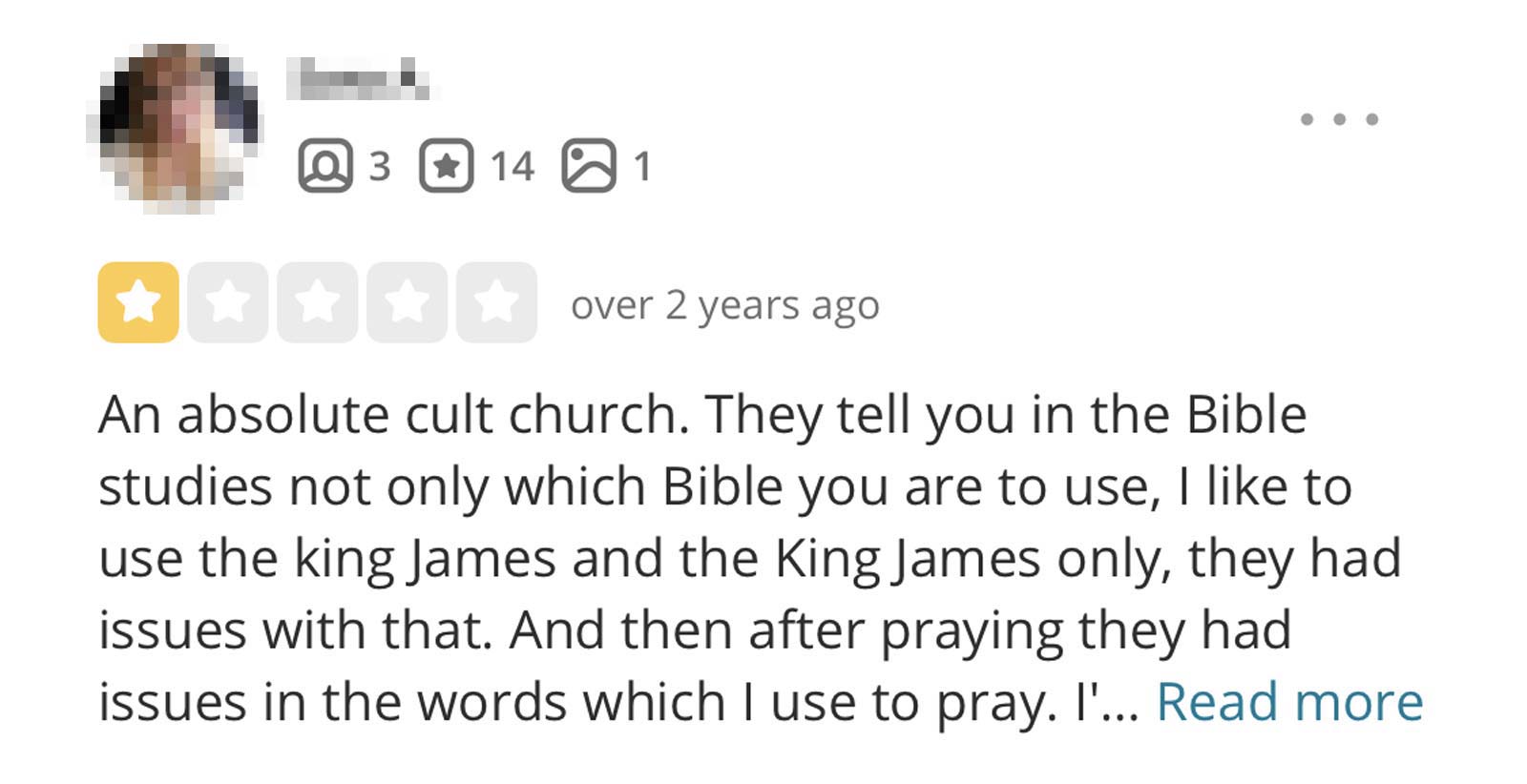 Full text of review (view screenshot of full review):
An absolute cult church. They tell you in the Bible studies not only which Bible you are to use, I like to use the king James and the King James only, they had issues with that. And then after praying they had issues in the words which I use to pray. I've never seen anything like it.
And they also split my daughter up from her fiancé in her young adultsBible study that she attended for several months.
Absolutely unbelievable. Neither of us have gone back for quite a while.
---
TRAUMATIC AND UNWELCOMING EXPERIENCE
Source: Blue Sky Church Google Review, September 2021

Full text of review (view screenshot of full review):
Attending Blue Sky small groups was an incredibly traumatic and unwelcoming experience.
I was invited to a Blue Sky small group the summer of 2019 by an ex-friend. I explicitly told her that I went to a different church than hers, and double checked with her if me coming was ok. She assured me it was.
The first time I went, these were completely fine. We had dinner. We talked about service and covered portions of the book of Acts. It was the second time I went, that things went awry. We had dinner, and then continued fellowship reading through acts. After the fellowship was done, the small group leader pulls me aside and starts to interrogate me about where I was from, what my testimony was, whether or not I was interested in joining this specific church. I answered honestly -- sharing that my ex-friend had invited me over, shared about about my background in faith, that I was part of a different church. I didn't understand why this was happening because I was literally invited by my ex-friend to come and she should have let the small group leader know.
Immediately after hearing that I went to a different church. He told me that I was not welcome to come back to this small group or any small group associated with this specific group. He then had the audacity to ask if I had any prayer requests. I told him some, and he got really close to me, put his hands firmly on my shoulders and started praying. I could feel his breathe all over me. It was incredibly, incredibly uncomfortable. I didn't want to cause a scene, so I went home -- quite disturbed.
I had messaged both the small group leader and the pastor of the church. I received incredibly unkind words from the small group leader. And from the pastor: "I do want to confirm your understanding that all small groups are only open to those wishing to be part of this specific church."
This belief was not just a matter of the small group leader not liking me, but a systematic doctrine held and preached by the lead pastors. This was not just a one time occurrence with me, but a continued pattern of behavior which excludes and mistreats other believers.
I encourage you all to look at a website which details the abusive practices at Blue Sky and its network of churches - searching up leaving the network by Steve Morgan
I hope people would take heed before attending Blue Sky and looking into their actual beliefs. I will leave references to 3 John on the story of Diotrephes and 1 Corinthians 12:12-13 about the body of Christ.
---
APPALLED AND HORRIFIED
Source: Blue Sky Church Google Review, October 2021

Full text of review (view screenshot of full review):
I am genuinely appalled and horrified with how the "leaders" at Blue Sky treat people in general and treat other believers. After reading some of the stories on r\leavingthenetwork and the leavingthenetwork website, I have found that there have been on MANY occasions where the head pastor told attendees if they had not signed up for membership they were forced to leave.
To quote reddit user \il2wa on r\leavingthenetwork
"I decided to stay to support Krsh in the transition. But in October 2019, while I had a friend visiting Blue Sky with me, Krsh said on a Sunday morning, "If you have been with us for three months, you need to take steps toward membership, or I need to ask you to leave Blue Sky Church." I was stunned and hurt for several people, including my visiting friend. Also, David B and Krsh mentioned several times that THEY were at Blue Sky a few years, left, and returned before they became Christians. Why was that an option for them (to weigh their decisions, wrestle with their emerging faith) but not for anyone else? It felt like something that was written by someone else, and Krsh read. It seemed very out of character for him."
This behavior is also in line with various primary documents list on the website. Based on the primary documents I've read from the leaving the network website and subreddit, there is a continued pattern of mental and spiritual abuse prevalent here at Blue Sky and the rest of the churches within the Network.
For blue sky membership, you are required by the bylaws to continually tithe 10% of your income. Effectively, if you are not giving money to Blue Sky then you are not welcome. It could not be more clear that the "pastors" at Blue Sky only see the attendees as revenue. It is quite clear where their priorities lie.
I am a firm believer of repentance. I also do want to give a strong word of caution to any person who is considering attending this church to make a second take. The pastors should not be allowed to get away with hurting/abusing so many people. They can not hide who they are and how they treat people. I am bringing this to light.
---
STRONG PATRIARCHAL VIEWS
Source: Blue Sky Church Google Review, November 2021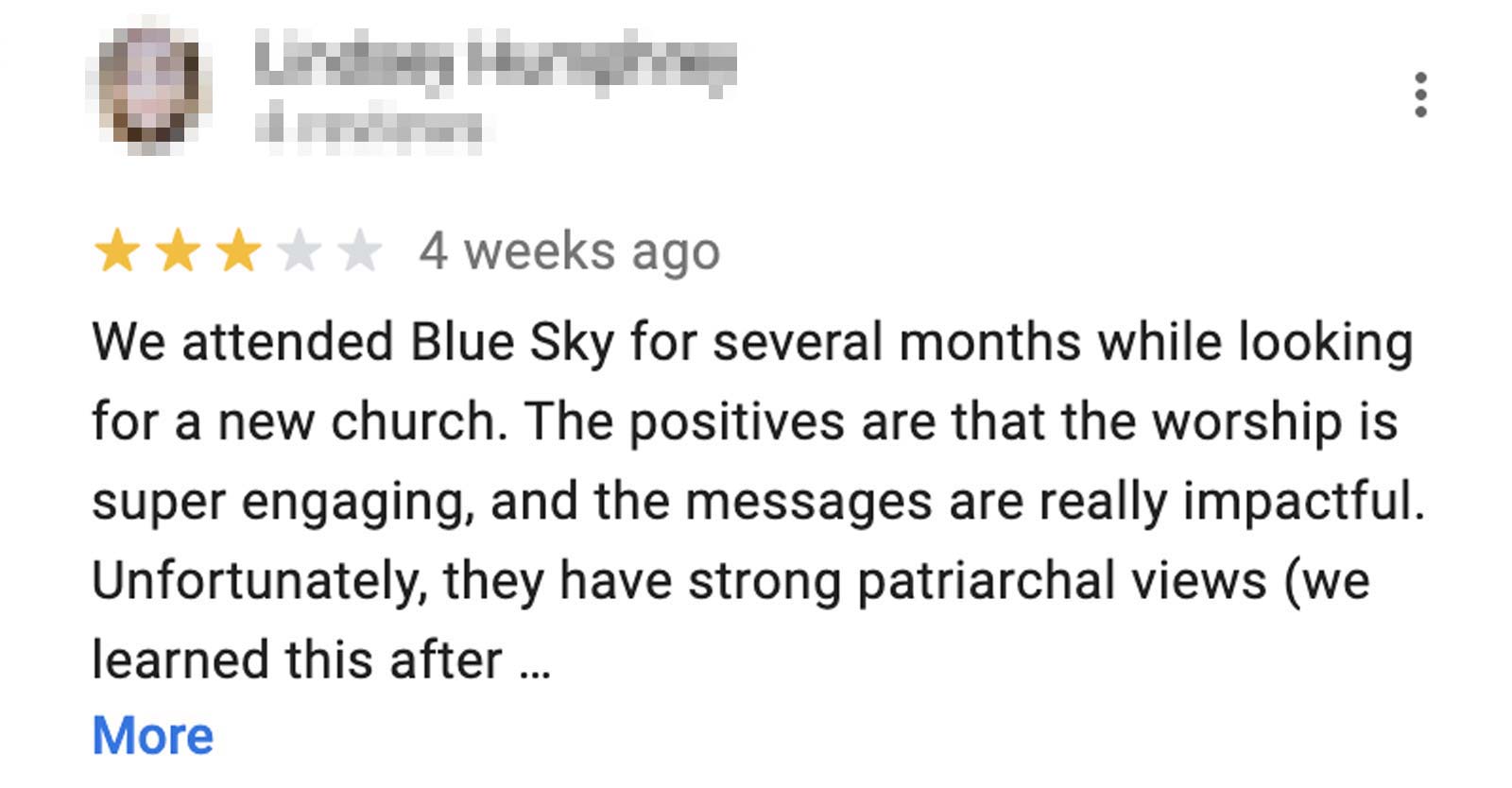 Full text of review (view screenshot of full review):
We attended Blue Sky for several months while looking for a new church. The positives are that the worship is super engaging, and the messages are really impactful.
Unfortunately, they have strong patriarchal views (we learned this after several conversations with the leadership). Women are not allowed to hold positions of authority. For many parishioners this may not be an issue but for us it was.
If you don't mind patriarchal leadership then I would recommend this church. However, if you value a woman's voice and diversity within the leadership of your church then this place is not for you.
---
HIGHLY CONTROLLING OF BEHAVIOR, INFORMATION, THOUGHTS, AND EMOTIONS
Source: Blue Sky Church Google Review, February 2022
Full text of review (view screenshot of full review):
My wife and I attended Blue Sky Church from early 2012 to summer 2016. We gave $10's of thousands of dollars in the offering to build its current building. We then went on one of its church plants (that they highly encourage) - moving ourselves to San Luis Obispo, California. I regret all of that and do not recommend attending this church.
This church is part of "The Network" which is lead by Steve Morgan, former lead pastor at Blue Sky. You can read more about it by googling "Leaving the Network", or googling for "Not Overcome" (my blog covering this network). There is too much information to include here.
This network of churches can be highly controlling of behaviors (no tattoos, yoga; members must give 10% of their gross income to the church), information (basic beliefs, no recorded teachings, all governance process is behind closed doors), thoughts (demands of loyalty, minimal tolerance of criticism), and emotions (expectations that you become emotional during worship and "hands-on prayer").
We experienced heavy rhetorical pressure to give $$$ to the church, as well as to go on a church plant team.
The church is not clear about some things, so I will be.
Women are not allowed in any role where they would lead or teach men. Minimal structure exists for the discipling of women.
The "blue bags" program (if they still do it) is all they will do for the community, and a paper authored in 2012 shows that they think this program is mostly window dressing so that people think they're doing something.
While they like being "multi-ethnic" they have no real engagement on issues of racial justice.
The pastors are not formally trained (seminary). They are simply selected by the existing leaders and asked to give up their careers to be a pastor. This results in weak, sometimes incorrect teaching. However, they frequently act as though their teaching is authoritative despite having no solid foundation from which to teach. Small group leaders similarly may act authoritative, even though I can say from experience: many read the passage they are reading a few hours before group started.
The leaders are comfortable claiming they've had prophetic visions for the church.
Wayne Grudem is their favored theologian, and they cast doubt on the validity of others. That said, they still use a hierarchical governance structure that Grudem says is unwise, and are more restrictive than he recommends when it comes to women's roles.
I knew Krsh and Aaron, who are pastors there. I liked them personally in my limited interactions with them. But they are not independent leaders, and they have to follow what their network leaders tell them. Krsh apparently said once that anyone not pursuing membership after three months of attending should leave. That's simply not the way of Christ.
---
LEAD PASTOR KRSEVAN (KRSH) PENZAR LIED [ABOUT BLUE SKY CHURCH'S FOUNDER STEVE MORGAN'S ARREST FOR AGGRAVATED CRIMINAL SODOMY AGAINST A TEENAGE BOY] AND I CANNOT STAY SILENT ANY LONGER!
Source: Blue Sky Church Yelp Review, July 2022

Full text of review (view screenshot of full review):
Okay, it breaks my heart to finally need to write this. My wife and I attended Blue Sky for almost 16 years, I was baptized there, I served there, heck I even helped do facility maintenance for free since I had the skill and tools. The people here are great people don't get me wrong. I previously had this as a 5-star review.
Over the course of the years Blue Sky has sent church plant after church plant, I'm not opposed to it and know it can help spread the gospel. My issue though comes from how fast they were to do this. With every church plant sent, the church [Blue Sky] sent some its strongest leaders as well as small group leaders. Back in 2012 it would be common to see small groups growing so much that you would generally have between 3-5 small group multiplications (making two groups from one large group) a month. Over the past 6 years Blue Sky has sent 6 church plants around the country, with one being in Taiwan and one most recently in Reading, England. These 6 multiplications have stripped Blue Sky of the strong leadership faster than they could grow. Now it is common to see between 2-4 small group multiplications a year. The small group leaders aren't strong enough yet, they were forced into these roles early on as the network leader, Steve Morgan became overly obsessed with church planting. Steve cares more for sending more church plants than he does making sure his congregation in each church has time to rebuild and grow.
I have been on the verge of leaving for the last 2-3 years just due to a stalemate in growth, heck even small group discussions didn't seem fun, if anything they were more a waste of my time and money, yes money as I have a child I had to put in their child care and pay $15 a week for. I never understood once Blue Sky paid off their building entirely why they cannot help support families and pay for the childcare or at least help assist.
The reason we left: Back in October 2021 during one of the team meetings (one Sunday a month that people who serve/volunteer in the church can meet), a small blurb was mentioned about not believing what is being said online. My wife and I had no idea what he, Krsh, lead pastor now at Blue Sky, was referring to. A week later my wife found this website "LeavingTheNetwork" which talked a lot about problems within the network. When I started reading through many of these I will admit I blew them off as just attacks upon the church from people who don't like the way the network is run since no pastor there has gone through seminary nor even counseling to help lead the church. These guys are raised up from the church itself, generally young 20s fresh out of college waiting to start their career until God calls them (typically Steve and pastors would pick these people and tell them) to lead, then they give up their career and work for the church.
After Christmas 2021 more stories started coming out on the website, but this time from people who I knew and looked highly upon as they were once leaders of some sort or another in the church and now exposing it. I vaguely remember my old small group leader telling me not to read any of the website and not to believe it (this was at Christmas). Two months later, in February my wife and I finally decided to pull the plug from Blue Sky and the network. We invited our old small group leaders over for dinner (the ones who told us not to read or listen to the website) to break the news to them, but they beat us to the punch and informed us that they were leaving due to the network issues, we were totally blown away and lead to a great conversation.
Fast forward a few months until now, I've stayed quiet on this as I didn't really want to go out and inform everyone as the information is out there, but after the latest news last Friday, made from one of the past overseers who had to hold onto this knowledge for years. Steve Morgan, the main leader of the entire church network, back in 1986 while he was a Youth Leader for a Mormon church, at 22 years old committed "forced sodomy" with a 15 year old boy. The LeavingTheNetwork website has come across the scanned files from the court and it reads the committed act is 'forced sodomy on a minor'. I read the entire court document, to me it is very disturbing. Steve kept this a secret with only a few leaders in the church until 2019 when he told all leaders what had happened. Now I am not sure what he "told" them but what I can say is that last Sunday at Blue Sky (I heard from others who still go there) that during the morning announcements they said that there has been sexual misconduct that has come up in regards to the main leader, Steve Morgan, and that more will be addressed at the Team meeting later that night. He also mentioned that this Team meeting is open to all. I got word that on Sunday night, Krsh had addressed this as Steve had consensual sexual activity with a boy in their late teens. Krsh lied, I cannot stay silent any longer!
---
IT PAINS ME TO SAY THAT THIS CHURCH IS NOT A SAFE PLACE
Source: Blue Sky Church Google Review, November 2022

Full text of review (view screenshot of full review):
I attended Bluesky Church for 12 years, was part of the original church plant team when the church started in 2004, served as an Overseer and Vice President of the Board, served as a lay pastor for a Discipleship Community, was a member of the worship team, and served as a small group leader for most of that time. I spent 17 years involved with a church in the Network of churches of which Bluesky is a part.
Please google "Leaving the Network" to read background information about Bluesky Church and its associated network. Read the personal stories from Bluesky and people all over network churches including my personal story (Andrew L). It pains me to say that this church is not a safe place. Because of the negative experiences of so many, questions about a lack of accountability, and the continued refusal of church leaders to take appropriate actions, 19 former pastors, staff members, and overseers including myself signed a Call to Action recommending an independent investigation. Over 540 people signed an associated petition. Please pay particular attention to a letter from an esteemed seminary professor. In summary, this professor said the following regarding Bluesky Church and its Network: 1. Perpetrating se***l abuse disqualifies one from ministry. 2. There are great concerns about lack of transparency/honesty regarding the Network Leader's criminal background. 3. There appears to be serious issues with Network leadership structures. 4. A lack of response to the Call to Action from Network Leaders speaks volumes. 5. The Call to Action by former leaders and staff is wise and biblical. 6. There are significant allegations of spiritual abuse in The Network. 7. The Network's response to the allegations is very disturbing as it postures themselves as the victims of "persecution." 8. This situation has all the hallmarks of abuse cover up, lack of honesty, and blame shifting. 9. Abuse survivors should do all they can to articulate their concerns to the church leadership. 10. As far as the Network Leader, he should take a leave of absence while the church allows a thorough, independent investigation.
Please read all related documents and carefully consider information before joining this church.
I'd happily change this review if/when the leaders repent of their sins, seek reconciliation with the hundreds of victims they have harmed, and walk the humble path of gospel transformation.
---
THINGS I WISH I KNEW BEFORE I BECAME A MEMBER, WORSHIP TEAM MEMBER, AND SMALL GROUP LEADER AT BLUE SKY CHURCH
Source: Blue Sky Church Google Review, April 2023

Full text of review (view screenshot of full review):
I wish I had known about the years of spiritual abuse, manipulation, and harm done by leaders at Blue Sky and other churches in the network of churches that Blue Sky belongs to.
I wish I had known about the criminal record of the man who started this church and continues to lead the entire network of churches. I wish I had known about his dishonesty and how he would place himself over the health of these churches once his criminal record came to light.
I wish I had known about the extra-biblical doctrine of "obeying your leaders in all things" that all pastors in this network hold to and the strong influence that the leader of the network has over all churches because of this.
I wish I had known about the systematic way that people are brought into this church community and then asked to cut ties with friends and family who are not in the network.
I wish I had known that when people have questions or concerns that they are asked to leave quietly, instead of being listening to and making a way forward.
I wish I had realized sooner how this church prioritizes growth and partiality over humbly serving the poor, the fatherless, and the widow.
I wish that I had known these things before I first attended Blue Sky more than a decade ago. I wish I had known these things before I became a member, worship team member, and small group leader over the course of 6 years. I wish I had known these things before I moved with 60 other Blue Sky members to Texas as part of a church plant, only to finally experience the abuse that so many others have experienced and to understand the manipulation that was there all along.
You have a chance to know these things before you get involved here. Many have shared there stories, which can be found by googling "leaving the network". I am one of hundreds who have signed a call to action for an independent investigation into the abuses at Blue Sky and other churches. I will reconsider this review if steps are taken and open to communication with the leaders at Blue Sky.
BACK TO STORIES:
STORIES: Read the stories of those who have left and who have consented to share their experiences from their time in Steve Morgan's Network of Churches