JT LONGHORNS
The content of Steve Morgan's Texas Longhorns breeding business was scrubbed on August 12, 2021, but we are posting the content here for transparency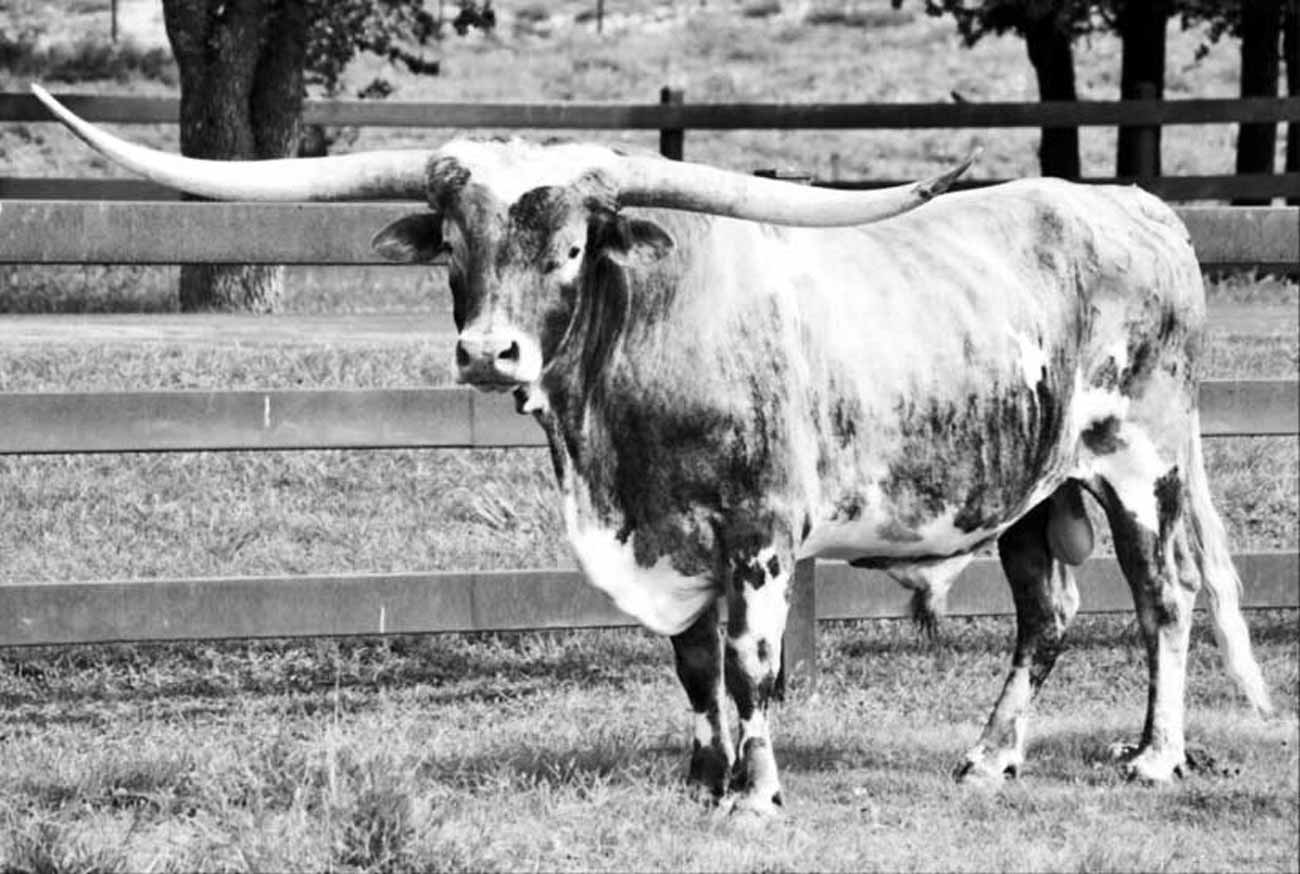 STEVE MORGAN'S SIDE BUSINESS
The Leaving The Network website was launched on August 10, 2021, and contained references and links to Steve Morgan's side business. Two days later, on August 12, the JT Longhorns website was scrubbed of all mention of Steve Morgan.
In 2018 Steve Morgan began operating JT Longhorns as a side business from his ranch, despite the fact that he had contractually forbidden all pastors and support staff in the Network from operating side businesses. Employee handbooks stated:
All full time staff members are expected to give their whole time and attention to <church name> and are not to engage in part-time additional employment without prior consent of their Overseeing Pastor and Senior Pastor and approval of the <church name> Board of Directors.[1]
Steve's role in The Network precludes him from oversight and accountability for these types of decisions.
WHY DOES THIS MATTER?
This matters because The Network operates with no accountability under Steve Morgan's leadership.  The rules made for others are arbitrary, and the Network Leader is exempt from them. Steve had forbidden pastors and staff within The Network to hold jobs outside the church because outside responsibilities would "distract them from the mission of the church," and yet Steve is able to own and operate his own side business on his estate without being challenged. The fact that the content of the site was scrubbed and eventually taken down entirely after this site raised awareness also seems to indicate Steve was attempting to conceal this information. This business and the subsequent scrubbing of the site represents hypocrisy and should be public knowledge.
SEE ALSO: Read about how The Network's leadership structure undermines local churches and creates conflicts of interest for board members on our "Leadership Accountability" page.
---
CONTENT OF THE JT LONGHORNS WEBSITE
View additional pages of site as PDFs (these files may take a bit to load, as some of them are large):
Herd Sires  •  Cows/Heifers  •  Calves  •   Photos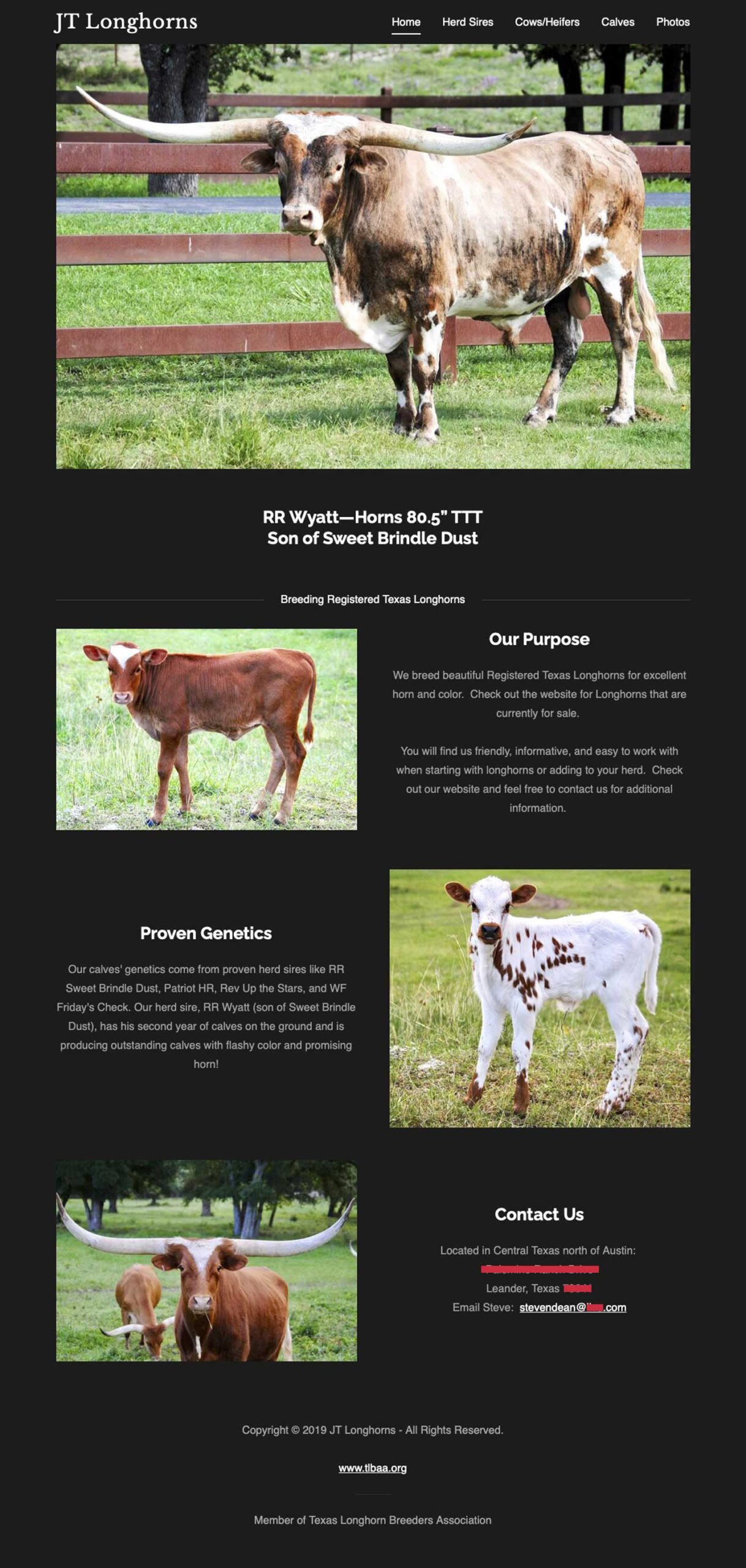 The following content is from jtlonghorns.com. The site is still available and updated with the information changed to remove references to Steve Morgan (such as his email address with his first and middle name). The previous version of the site is posted below and states the following.
EDIT: As of October 28, 2021, the jtlonghorns.com site is no longer available. Going to the url returns a "404 file not found" error.
Our Purpose

We breed beautiful Registered Texas Longhorns for excellent horn and color. Check out the website for Longhorns that are currently for sale.

You will find us friendly, informative, and easy to work with when starting with longhorns or adding to your herd. Check out our website and feel free to contact us for additional information.

Located in Central Texas north of Austin: •••<address redacted>•••, Leander, Texas •••••
Email Steve: stevendean@••••••.com
---
ARE YOU CERTAIN THAT THIS IS STEVE MORGAN'S SIDE BUSINESS?
Yes. The Texas Comptroller of Public Accounts site lists Steve Morgan as the owner of JT Longhorns (see below). This listing reveals that Steve Morgan receives an agricultural exemption he can claim on his taxes for owning and operating this business. His registration for JT Longhorns is currently active until 2023.
---
DID STEVE MORGAN CONTINUE TO OPERATE THIS BUSINESS AFTER THE JT LONGHORNS WEBSITE WAS SCRUBBED OF HIS INFORMATION AND EVENTUALLY REMOVED FROM THE INTERNET?
Yes. In March 2022, seven months after Steve Morgan's details were scrubbed from the JT Longhorns website, a listing in Steve Morgan's name was posted in a magazine for one of his calves.[2] In March 2023 another listing was posted, this time under the company name "Jumping Tree Longhorns" instead of JT Longhorns.[3] A listing from the same magazine in 2019 lists Steve Morgan as a member of the Texas Longhorn Breeders Association of America (TLBAA) with the JT Longhorns website included,[4] and "JT Longhorns" is listed as the official name of Steve's business in the Texas Agriculture registry. Images of the listings in the TLBAA magazines are below.
March 2023 issue of magazine where Steve Morgan posted a listing for a calf under the business name "Jumping Tree Longhorns." [3]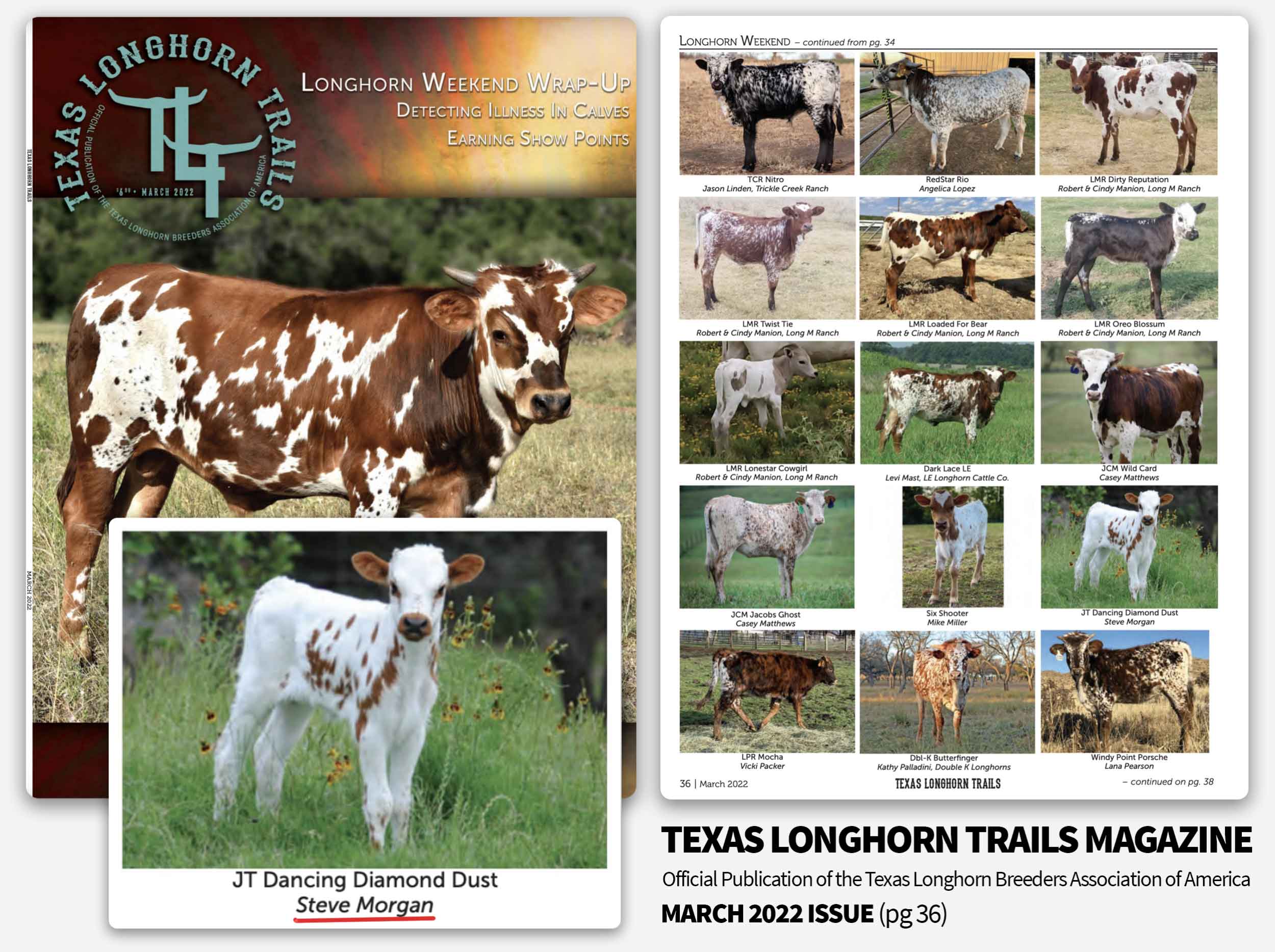 March 2022 issue of magazine where Steve Morgan posted a listing for a calf without using the JT Longhorns business name. [2]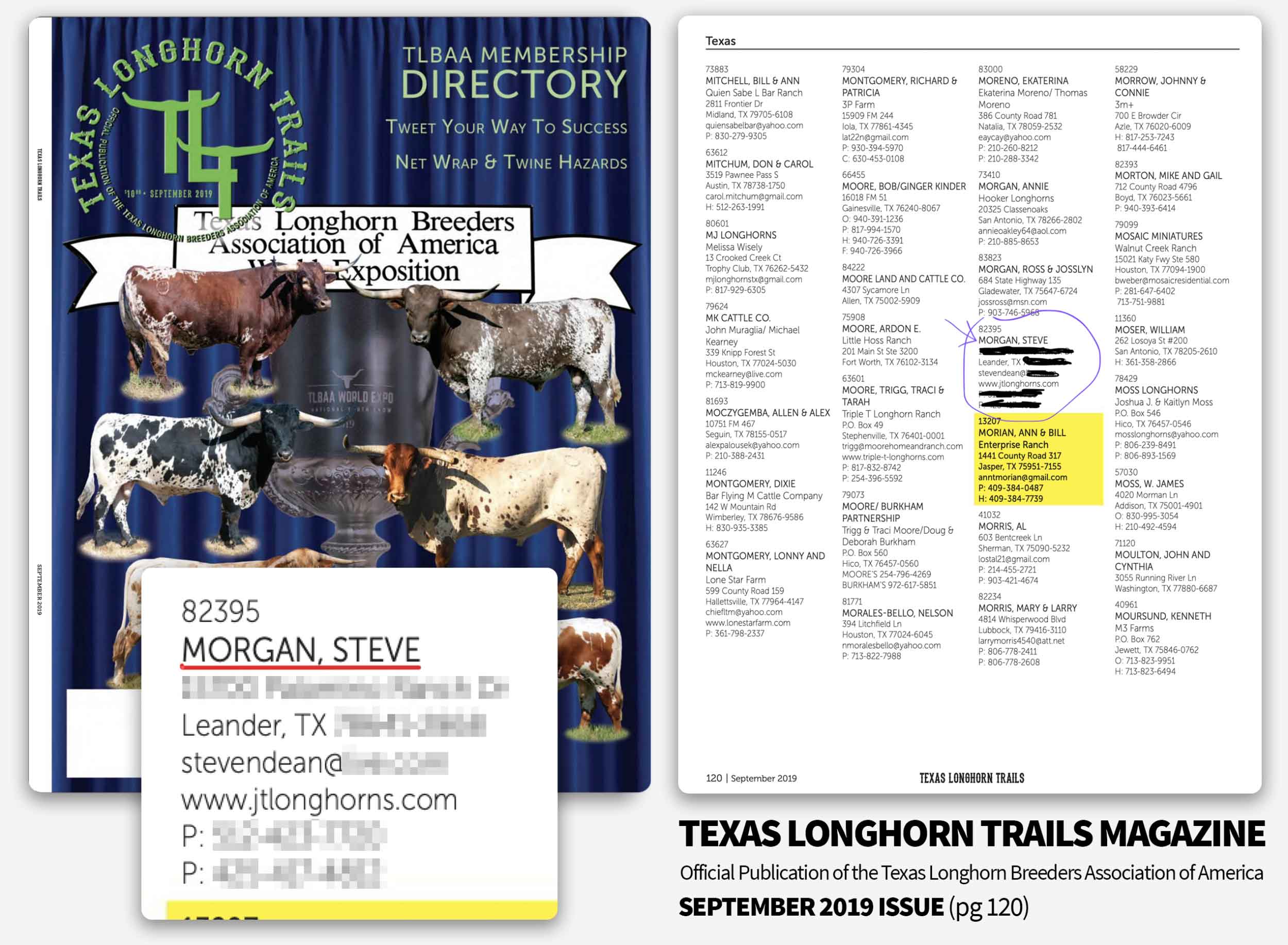 September 2019 issue of magazine where Steve Morgan is listed as a member of the TLBAA with the web address for the now-deleted JT Longhorns website.[4]
---
WHERE DOES STEVE MORGAN'S CATTLE BUSINESS OPERATE?
The following are photos of the front drive of Steve's estate near Austin, Texas, showing  his cattle ranch: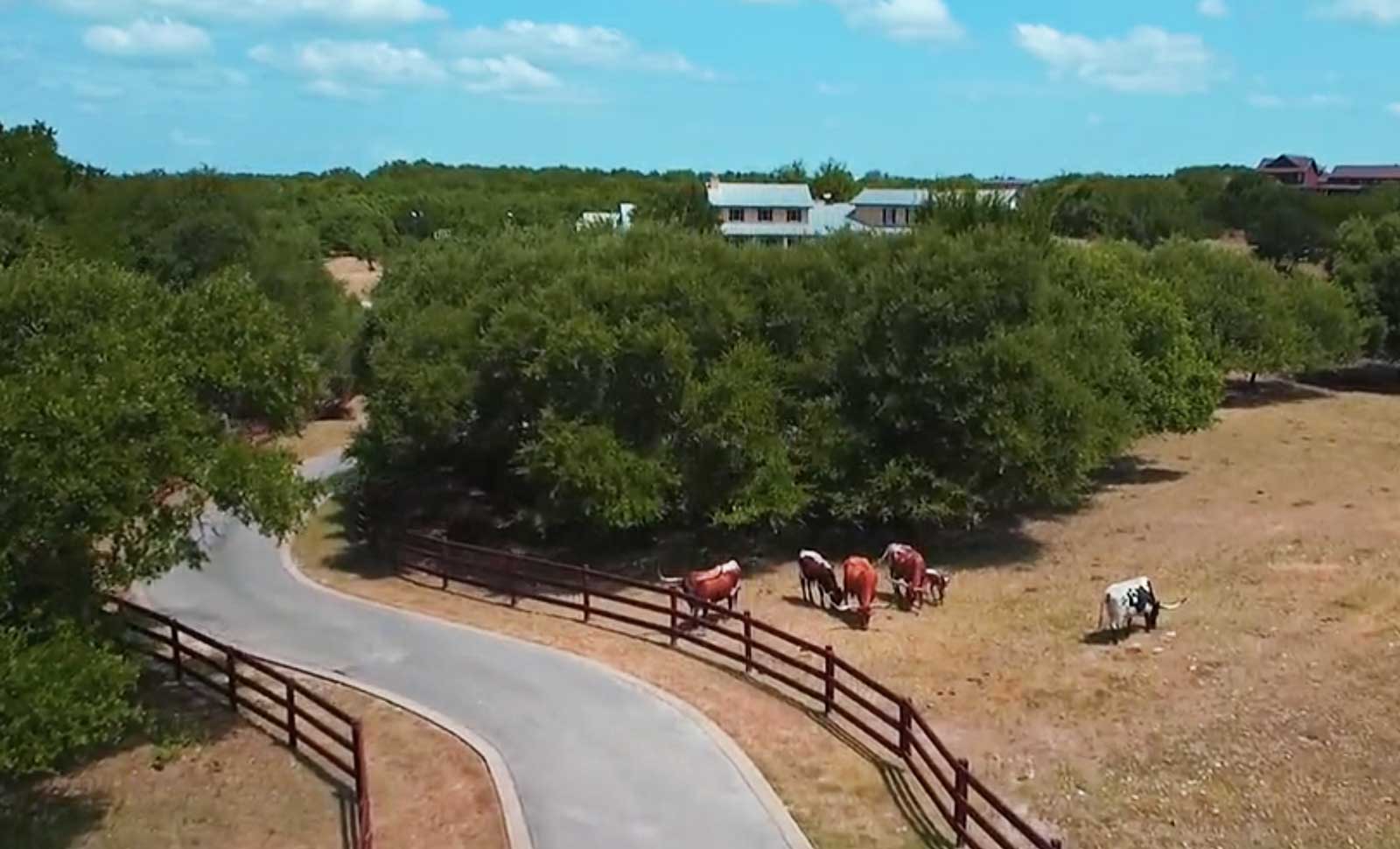 "This is the verdict: Light has come into the world, but people loved darkness instead of light because their deeds were evil. Everyone who does evil hates the light, and will not come into the light for fear that their deeds will be exposed.

But whoever lives by the truth comes into the light, so that it may be seen plainly that what they have done has been done in the sight of God."
John 3:19-21, New International Version
BACK TO TIMELINE:
HISTORY OF THE NETWORK: Key milestones in the development of Steve Morgan's Network of churches